Summer Stars Lecture Series Begins With a Message of Hope
In a talk last week, celebrated conservationist and photographer Cristina Mittermeier shared her quest to save the sea.
August 03, 2020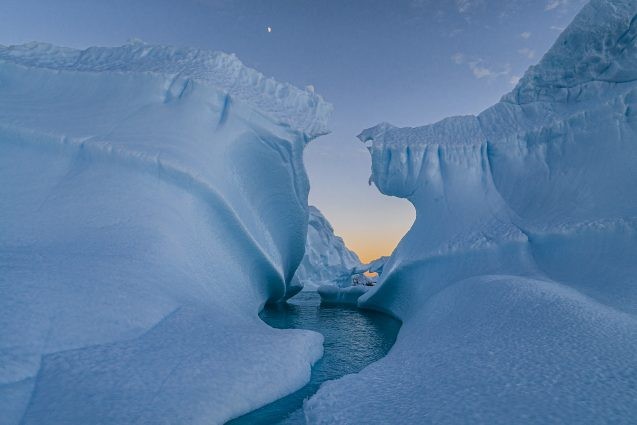 One of Mittermeier's photos from Antarctica, where she is trying to set up a vast marine protected area. Courtesy Cristina Mittermeier
When Maureen Raymo took the helm as the interim director of Columbia University's Lamont-Doherty Earth Observatory in July, she became the first woman and the first climate scientist to lead the 71-year-old world-renowned observatory. Raymo, who is also director of Lamont's Core Repository, meets her new role at a time of unprecedented difficulties. The pandemic has forced the shut-down of much of Lamont's field work. While the ramp-up of time-sensitive laboratory work is underway and going strong on campus, the months ahead promise to hold unique challenges.
But morale among the Lamont community is on Raymo's list of priorities. Thus, this summer she made possible the "Summer Stars Lectures." It is a series of lectures featuring some of the brightest luminaries in the field of conservation and climate science, all delivered virtually, of course.
"The 'summer stars' name is inspired by my childhood, lying in dark meadows on summer nights with my dad who is an astronomer. We learned about the summer triangle, a northern hemisphere pattern of stars made from the three brightest stars in the sky: Deneb, Vega, and Altair. You can watch them rise in the east," said Raymo.
Her intention behind the series is to bring to Lamont three inspiring speakers whose work focuses on the intersection of our humanity, nature, sustainability, and Earth.
The three speakers are photographer, adventurer, and conservationist Cristina Mittermeier; geobiologist and renowned author Hope Jahren; and climate scientist and educator Katharine Hayhoe.
Cristina Mittermeier's message to the Lamont and Columbia Earth Institute community, delivered on July 28 at the first of the three lectures, was one of hope and possibility.
"The ocean is really beautiful and I think the most important thing I can do with my photography is to frame the ocean as the solution to some of our biggest problems, like climate change, instead of as a victim," said Mittermeier.
Formally trained as a natural scientist, Mittermeier has made a marquee name and career using her powers as an artist to fight for a more just and sustainable world, especially from the perspective of the oceans. She captures the extraordinary with her eyes and camera, producing award-winning photographs, and is very much a person of action. Mittermeier is currently leading an effort to create a vast marine protected area around Antarctica, which would include waters around the Antarctic Peninsula, East Antarctica, and the Weddell Sea.
"That amounts to almost one percent of the oceans globally, covering about four million square kilometers," said Raymo. "It would be the largest ocean protection act in history."
In October, a delegation from around the world called the Commission for the Conservation of Antarctic Marine Living Resources is scheduled to meet and will consider the proposal. Mittermeier has been gathering signatures supporting the protection area and began her talk urging all in attendance to sign on.
In sharing her story, Mittermeier talked about the trajectory of her path leading her to become a celebrated ocean conservationist and photographer. She grew up in Cuernavaca, Mexico. A place known as the City of Eternal Spring but not near the coast. However, she was drawn to care deeply about the oceans and its creatures.
"I knew I wanted to protect animals. My desire was to go spend time with some of the largest creatures in the ocean like the blue whale and eventually tell [their] stories..…I cannot tell you all what one feels when you come upon a pod of sperm whales, the largest carnivores on our planet, and they're asleep just below the surface and you find a mother and its calf cuddling next to her, floating with the current downstream together. So beautiful. So, I want my photography to invite us into the mysteries of the ocean but to also make it less daunting and less scary," said Mittermeier.
To find out more about Cristina Mittermeier's work on behalf of the oceans, visit https://www.sealegacy.org/.
Stay tuned for announcements about our next speaker, Hope Jahren, scheduled to speak on August 18. Find out more here.