Lamont-Doherty Earth Observatory seeks fundamental knowledge about the origin, evolution, and future of the natural world.
Our scientists study the planet from its deepest interior to the outer reaches of its atmosphere, on every continent and in every ocean, providing a rational basis for the difficult choices facing humanity.
Lamont is the scientific research heart of the Columbia Climate School, which was founded in 2020 to develop and inspire knowledge-based solutions and educate future leaders for just and prosperous societies on a healthy planet. 
We are a dynamic community of 500 scientists, students, and staff, with nearly 300 PhD-level researchers, and 80-90 graduate students involved in research. Lamont also owns and operates a research ship, the Marcus G. Langseth, which uses seismic data to map the sub-seafloor, highlighting hidden faults and other earthquake hazards.
Since our founding in 1949, Lamont-Doherty has been a leader in the Earth sciences. Our scientists were the first to map the seafloor and develop a computer model that could predict an El Niño weather event, the first to provide concrete proof for the theory of plate tectonics, and to reveal the oceans' role in triggering abrupt climate change.
With each year, our understanding of Earth improves. Yet new discoveries await us. It is that next insight on the horizon that keeps our researchers excited to learn more about how and why Earth changes as it does.
Under the leadership of Columbia Climate School co-founding dean and Lamont director Maureen E. Raymo, our strategic plan deepens our commitment to diversity, equity, and inclusion, and outlines our way forward in a world with growing and urgent needs for science-informed solutions to the climate crisis.
The Lamont-Doherty Earth Observatory sits on a high, forested bluff on the Palisades overlooking the Hudson River, about fifteen miles north of Manhattan.
The Establishment of Lamont Geological Observatory
Photo: Lamont Geological Observatory sign at entrance to Torrey Cliff estate.
The Lamont Geological Observatory, now the Lamont-Doherty Earth Observatory, was established in 1949. Its first director was Professor William Maurice "Doc" Ewing, a pioneering Earth scientist.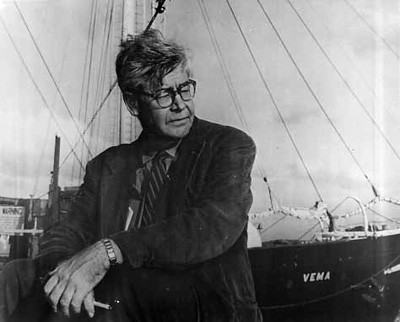 Photo: William Maurice "Doc" Ewing (1906-1974), a pioneering geophysicist, was founding director of the Lamont Geological Observatory. Here he is in front of Lamont's first research vessel, the Vema.
The Lamont Family
In 1929, Thomas W. Lamont (1870-1948), a Wall Street banker, constructed a weekend residence overlooking the Hudson River in Palisades, New York. He named the estate "Torrey Cliff" after John Torrey, a prominent botanist who had spent summers on the site from about 1854 to 1865.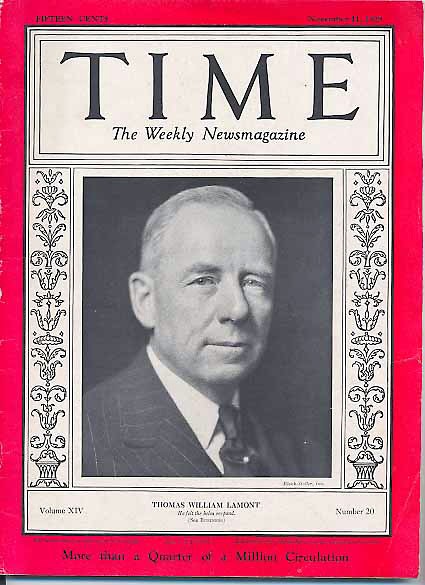 Photo: Thomas W. Lamont (1870-1948) was an international banker, partner and Chief Executive Officer of J.P. Morgan and Company. Here he is seen on the cover of Time Magazine, November 11, 1929.
In 1948, Thomas W. Lamont died and his widow, Florence Corliss Lamont (1873-1952), an alumna of Columbia University, donated the estate to Columbia. She wrote, in part, "I am giving the property in my husband's memory. My gift is unrestricted," but she was pleased with the University's plans to make the property a center of geological research, and assured that "the world [would] benefit."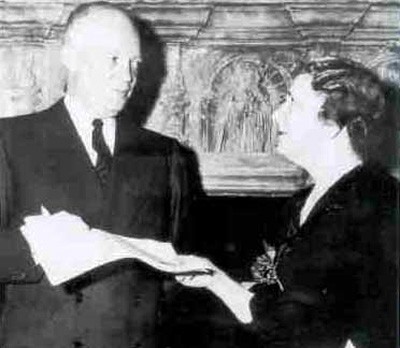 Photo: Florence Corliss Lamont gives deed to the Lamont property "Torrey Cliff" to Columbia University President Dwight Eisenhower, 1949.
Lamont Becomes Lamont-Doherty
In 1969, the Observatory was renamed "Lamont-Doherty" after a major contribution from the Henry L. and Grace Doherty Charitable Foundation. Henry Latham Doherty (1870-1939) was the founder of the Cities Service Company. The Henry L. and Grace Doherty Charitable Foundation is a major supporter of oceanographic institutions.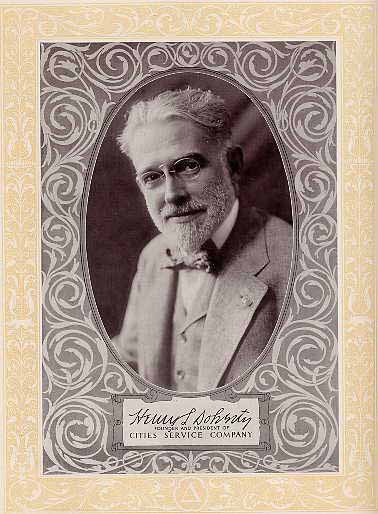 Photo: Henry Latham Doherty (1870-1939) was the founder and president of the Cities Service Company. This is a photo from a Cities Service brochure from 1927.
The Geological Observatory Becomes the Earth Observatory
In 1993, the Lamont-Doherty Geological Observatory was renamed the Lamont-Doherty Earth Observatory in recognition if its growing scope of expertise and influence in the Earth sciences.
Lamont-Doherty Earth Observatory Today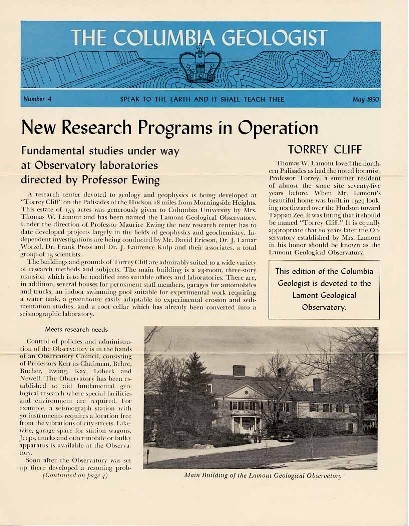 Photo: The Columbia Geologist, May 1950 issue, announcing the new research operations at Lamont Observatory.
Lamont-Doherty is home to the greatest breadth of Earth science research and largest concentration of Earth scientists of any academic institution in the nation, and forms the core of Columbia University's world-leadership in climate change research and adaptation. 
Lamont scientists seek to understand Earth's future by analyzing the past history of climate change recorded in ice cores, tree rings, glaciers, corals, land and ocean sediments, and other natural archives. Lamont is home to pioneers in the use of technology, including underwater vehicles, aircraft, drones, and satellites, and operates the Marcus G. Langseth, an oceanographic research ship able to collect critical measurements, samples, and real time data world-wide.
This unique range and depth of scientific investigation sets Columbia University's climate response capacities apart. Today, with the growing body of evidence and information about the impact of climate change on myriad aspects of life on Earth, Lamont's contribution to creating global solutions has never been more crucial or more exciting.
With the wealth of accumulated data collected through more than 70 years of scientific endeavors, Lamont-Doherty has amassed some of the world's most comprehensive and accessible databases in seismology and marine geosciences. The Observatory houses one of the world's largest collections of deep-sea and ocean-sediment cores—more than 19,000, from every ocean and sea. 
Tools used by Lamont-Doherty petrologists and geochemists include high pressure and temperature experiment apparatus, and facilities allowing analysis of virtually all elements and isotopes in rocks and water, including mass spectrometers, plasma and solid-source spectrometers, electron microprobes, scanning electron microscopes, and x-ray diffraction. Lamont's polar physics division designed and built IcePod, which focuses on the development of an integrated ice imaging system that can measure in detail both the ice surface and the ice bed.
The Observatory has fully equipped laboratories for rock mechanics, paleomagnetics, and tree-ring analysis, as well as its own electronics shop and instrument laboratory. To analyze and interpret the massive influx of data, a powerful computer facility and network link facilities on campus and in the field. 
Observatory scientists continue to uphold Lamont's signature ethos—ingenuity, visionary imagination, and indomitable drive to discover and to inform solutions to society's most profound challenges.