ADA-Accessible and Gender-Inclusive Restrooms
The Lamont Campus has ADA-accessible restrooms as well as one or more gender-inclusive restrooms in each building. Please refer to buidling location details for gender-inclusive restrooms below the map for specific information.
Note that it is Columbia University policy campus-wide that all students, faculty, staff, and visitors should use whichever restroom is most consistent with their gender identity.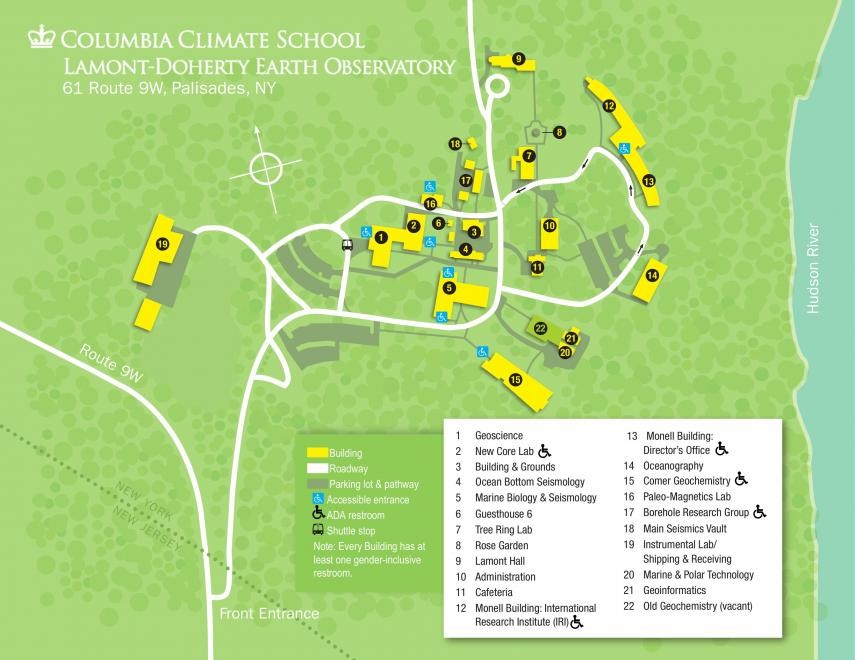 Building Location Details for Gender-Inclusive Restrooms
Administration - Across from room 208, in the back of the kitchenette
Borehole Research Group - Next to room 201B and next to room 212
Cafeteria - In the hall to the right of the kitchen area.  Also one located in the student lounge
Comer - Across from room 117
Core Lab - Around the corner from room 101 near the side entrance of the building
Geoinformatics - Across from room 150
Geoscience - Next to room 110
Instrument Lab - Across from room 102 in the office suite
Marine & Polar Technology - Across from room 162
Monell - Under the auditorium near the kitchen area and one located across from 217 in the Director's Office
Ocean Bottom Seismology - Next to room 109
Oceanography - Across from Suite 107
Paleomagnetics - Across from room 101E
Seismology - Next to room 107
Tree Ring Lab - Across from room 116, at the back of the large main room