Staff Member Spotlight: Hannah Adrienne Sweets, Data Manager
After following an exciting and unpredictable career path, Sweets is settling in as the data manager of a geoinformatics database at Lamont.
December 15, 2020
The Staff Spotlight series features Earth Institute staff members across Columbia University's campuses at Morningside, Lamont and the Medical Center. The series is intended to gain insight about our colleagues. These interviews discuss their careers, their interest in the Earth Institute, and reflections that might be relatable and useful for the rest of us.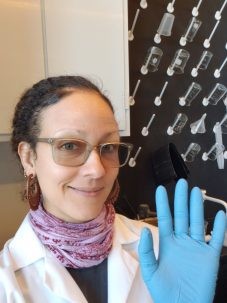 Sweets in a geochemistry lab at Lamont. She now works in geoinformatics.
Hannah Sweets joined the Earth Institute in January of this year in the geoinformatics division at Lamont-Doherty Earth Observatory. I met up with her virtually to get a glimpse into this lovely data manager's experience, her life, how she joined the Earth Institute, and about her goals and aspirations related to her work.
When did you connect and what is your role at the Earth Institute?
I started officially working at LDEO in February of 2019. I worked as a research assistant in the geochemistry department before moving over to geoinformatics in January of this year. I am currently working as the data manager for PetDB, the petrological database [which provides analytical data about various types of rocks, glasses, minerals, and more]. I love being a part of maintaining a global catalogue of the planet's geological systems. January 6, 2021 will be my first anniversary working in geoinformatics as data manager for PetDB!
What are some highlights from your background you may wish to share with us?
After graduating from high school in 1988, I went to college for a year before dropping out to dance professionally. I worked as a professional dancer for several companies in the U.S. before an injury forced me to retire. I began working in the service industry, eventually becoming a chef, and I worked for 15 years in the culinary world before deciding to go back to school. Originally, I just wanted to take some botany classes at a local community college to guide me as a chef with proper techniques to use in the garden I maintained for a high-end restaurant attached to the Aspen Institute. I was also lucky enough to be able to attend the physics seminars for free when I had time. I was always deeply interested, but never thought it was something I could pursue.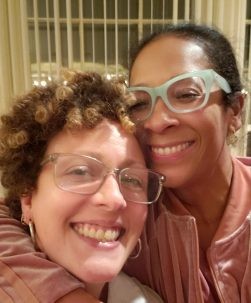 Sweets and her friend Lyah le Flore.
I just happened to take an environmental science class for my own personal gratification, and then a geology class. Then I took another environmental science class. In 2010, my mother had surgery and I moved back in with her to take care of her, and started going to school while working. In 2012, I decided to go to school full time, and eventually transferred from Austin Community College to Columbia University. In 2018, I was struck by a car while walking across the street, which forced me to take leave for the remainder of the semester for recovery and physical therapy, but I ended up graduating from CU School of General Studies with honors with a degree in earth science in 2018. It has been a long road!
What goals and dreams inspire you onwards?
I have had some health problems recently. I was diagnosed with several autoimmune issues which have pushed back my plan to continue school. Despite these challenges, I would like to work towards my master's in sustainability sciences, perhaps eventually a PhD. My work with [Lamont's Diversity, Equity, and Inclusion] Task Force has pushed me towards being more actively involved in advocacy, particularly with respect to environmental racism, and the repercussions of systemic practices that disproportionately affect underrepresented minority classes in this country. I really hope to have an impact, if I can, by changing oppressive systems.
How are you spending your leisure time outside of work during these challenging times?
I am currently working on drafting recommendations for initiatives to present to the directorate with an effort to expand diversity, equity, anti-racism and inclusion here at Lamont. The Task Force has taken up a significant amount of my time outside of normal work hours.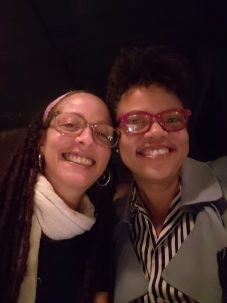 Sweets and her friend Elissa Perry. The two have been friends since elementary school.
I love to cook and am constantly presenting my partner with new recipes. I made kimchi from scratch this weekend! Cooking has been therapy. As disappointed as I am that I was not be able to spend Thanksgiving this year with family, I still made a full Thanksgiving dinner and ended up freezing lunch for a month!
Please tell us a bit about your holiday plans for this year?
As much as I wish I could spend the holidays with my mom, I think it will be safer for us to celebrate via Zoom. She is turning 80 this year, and I just do not want to jeopardize her health. My birthday is New Year's, so all of my girlfriends, whom I had planned on spending my birthday with, are going to have an online disco party.
Judy Jamal is a coordinator in the Director's Office at the Earth Institute, Columbia University.