Roving the Abyss: It Takes a Team
Bridgit's first mission with the autonomous underwater vehicle (AUV) Sentry was a rousing success, including locating a patch of seafloor where methane is bubbling up.
July 29, 2016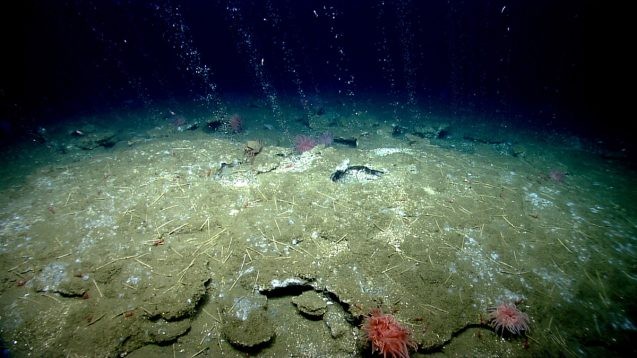 The training cruise team's first mission with the autonomous underwater vehicle (AUV) Sentry discovered an area of seafloor where methane is bubbling up, similar to this photo. The data will be used to plan the team's next dive, this one with scientists inside a submersible. Photo: NOAA
By Bridgit Boulahanis 
Nothing about Sentry's transition from ship to seafloor is simple or easy, but the group of engineers behind the autonomous underwater vehicle approaches the process like an Olympic synchronized swimming team. They dive in head first, understand their positions and roles, approach with unabashed enthusiasm, and know how to get the job done. Their coordination and skill made my belly flop into Sentry coordination look like a graceful swan dive.
At the center of this team is Carl Kaiser, program manager for the Sentry AUV. Carl became the program manager in 2011 and made a point to be a part of this training cruise because he believes that young scientists need to understand the power and versatility of AUVs. His expertise in autonomous underwater technology is invaluable to our diverse research group, and his passion is palpable.
Carl Kaiser stands in front of Sentry during an earlier mission in which the AUV became entangled in rope. Photo courtesy of Carl Kaiser.
"As early career scientists, you all want to make your mark, and to become world class researchers you will have to establish yourselves uniquely within your field," he says, while checking over a proposed dive survey. "We have barely scratched the surface of what Sentry can do—she wasn't available to previous generations—and in the coming years we will see what autonomous vehicles are truly capable of."
Seeing Sentry in action makes it easy to see why Carl and his cohort are so excited about their jobs. AUVs can be incredibly customizable: While we are primarily using Sentry to map the seafloor and take high resolution photos of our research sites, it also is capable of oxygen measurements, current speed tracking, magnetic anomaly measurements, sub-bottom profiling and plankton collection, just to name a few. It is programmed from a command station aboard the ship, given a set of locations and sampling goals, and set free overboard to complete its directive before returning to the surface.
If diving in Alvin, a submersible that can carry two scientists to the seafloor, is like an astronaut's trip into space, Sentry is similar to a planetary rover—nothing can replace the appeal of manned missions, but most of our real discoveries come from slightly less glamorous but incredibly important unmanned probes. Last night, while Sentry floated through the abyss gathering crucial data to help us understand the ocean, somewhere incredibly far away Curiosity roved across the Martian landscape, similarly transmitting information back to the scientists at NASA. I like to think that if Sentry and Curiosity could communicate across their vast and inhospitable separation they would end up close friends.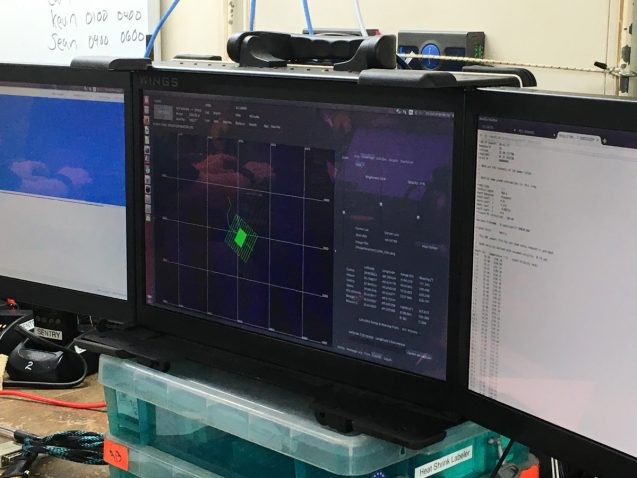 The autonomous underwater vehicle Sentry is controlled from this mobile command center. Photo: Bridgit Boulahanis
Our first Sentry mission returned this morning and was a rousing success. Right now, scientists aboard the ship and our colleagues on shore are excitedly processing the data. We will use the maps, photos and water column data that we extract from this to plan tomorrow's Alvin dive.
Looking at the map the Sentry operations group has generated from last night's dive, it is apparent that this powerful tool is going to play a key role in the scientific goals of many of us aboard this training cruise.
In fact, our first scientific meeting of the day started with chief scientist Adam Skarke holding up Sentry data showing that we have identified a spot where methane gas is currently seeping out of the ocean floor, leading to excited applause from everyone in the room. Those methane gas bubbles will be where we start our Alvin dive tomorrow, and they will be the research focus of many of the scientists here in the years to come.
Bridgit Boulahanis is a marine geophysics graduate student at Columbia University's Lamont-Doherty Earth Observatory. Her research utilizes multichannel seismic reflection and refraction studies as well as multibeam mapping data to explore Mid-Ocean Ridge dynamics, submarine volcanic eruptions, and how oceanic crustal accretion changes through time. Read more about the training cruise in her first post.
Save
Save
Save