How Christine McCarthy Balances Being Both a Brilliant Scientist and a Mom
A science career can offer unique opportunities and challenges for juggling work and family.
May 10, 2019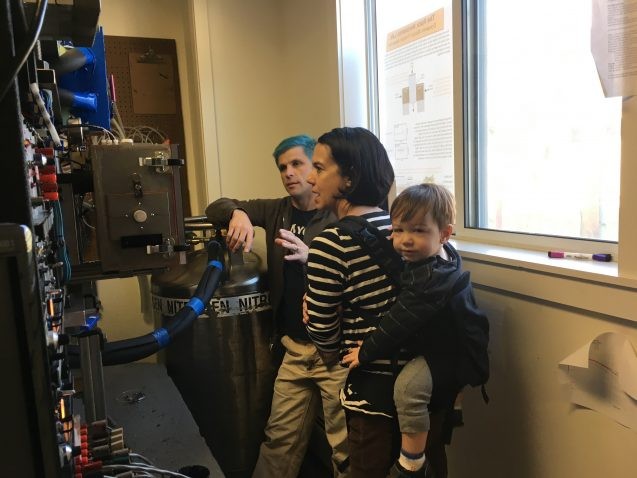 Geophysicist Christine McCarthy carrying her son through the lab. Photo provided by Christine McCarthy
Christine McCarthy is an early-career geophysicist who has established herself using laboratory experiments to observe how the micro-properties of ice affect its large-scale behaviors. But she has another full-time position: She's the mother of two children, ages 3 and 6. Although balancing motherhood with any full-time career is a challenge, when that career is science it can become a particularly unique challenge. Especially, as is the case for McCarthy, if those children come in the early stages of the scientific career.
McCarthy's children arrived just as her career was beginning to form—one during her time as a postdoctoral scientist, and the other very soon after she landed the position of Lamont Assistant Research Professor. The latter position is an especially challenging one because it's "soft-money," meaning that her salary is paid through non-permanent funding sources for which she has to write proposals and hope that they are funded. This means that McCarthy's job isn't your typical "9-5" position. Her schedule isn't necessarily dictated by the clock—she has to make sure she continues to advance her scientific research while also keeping herself funded. This stress, paired with the sleep deprivation that comes along with having children, even well after the initial maternity leave stage, leaves McCarthy in what she refers to as "survival mode." But as time goes on, the stress and chaos of early childhood has begun to taper off.
Despite the financial challenges, a science career can also offer unique opportunities for a new mother, especially because of the flexibility it can offer. Scientists at Columbia's Lamont-Doherty Earth Observatory don't punch timecards or have supervisors micromanaging their hours—they have much more autonomy than that. This means that McCarthy often has the freedom to rearrange her own schedule if there's a change in one of her children's schedules—like the time her oldest child's preschool decided to close for two days because someone may have seen an unidentified insect crawling around at the school. Although this is a fairly extreme example, children's schedules can change quite often—be it due to illness, inclement weather, or even bugs. When situations like this arise, McCarthy can work from home or bring her children into work with her. This flexibility, however, can be something of a double-edged sword; because she has more adaptability in her career than her husband does, the responsibility tends to come down on her when issues arise.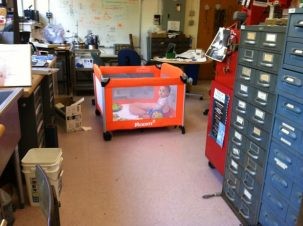 A play pen in the middle of the lab. Photo provided by Christine McCarthy
Luckily, Lamont seems to understand that children can make schedules somewhat unpredictable. McCarthy stresses that the observatory's assistance to scientists with families is a huge part of what helps her strike a balance. Lamont assesses its scientists on an individual basis during their promotion timelines, which made it possible for McCarthy to pause her promotion process for a short amount of time during her maternity leave, to focus her attention on her recovery and mothering a newborn. The Lamont-Doherty Child Development Center offers part-time and full-time programs for daycare and is located less than a mile from campus. McCarthy also takes full advantage of the Back-Up Care Advantage Program, which provides access to up to 150 hours of child back-up care, either at a center or even in the home, when there is an interruption to normal scheduling. Her husband's job has also recently increased its hours of back-up care, allowing them to share the load on these days. These programs make it possible for McCarthy to attend certain meetings and conferences or to give scientific talks at different locations—things that are extremely imperative for the career of an early scientist.
There is also a less formal form of assistance available at Lamont that has helped McCarthy adjust to the simultaneous pulls of mothering and science duties—a support system of senior faculty who have gone through similar experiences. When McCarthy began having children, more senior scientists came out of the woodwork to offer their assistance. These people had already been through this complicated time in their own lives and had even managed to survive it. They wanted to lend some advice but also, perhaps more importantly, an ear. McCarthy explains that knowing she isn't alone and that others have had the same experiences, feelings, and thoughts is enormously reassuring. These colleagues have assured McCarthy that maintaining a work-life balance is healthy for both family life and career. It really is okay to leave that e-mail you received on Saturday afternoon until Monday morning.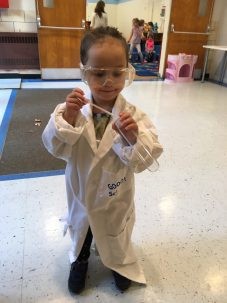 Photo provided by Christine McCarthy
McCarthy is increasingly excited because as her kids get older she gets the opportunity to share more with them about this great passion in her life—her career. Her oldest child is currently learning about environmental science for the first time, and McCarthy was thrilled to bring home a variety of different rocks to show off to her. McCarthy has a job she adores and feels as though it will set a good example for her children. She experienced some confusion and floundering on her path to find her passion, but she hopes that her children will be able to find a clearer trajectory. "Once they hear my story they will realize you can do anything you set your mind to," she says.
McCarthy is honest about the difficulties of being both a mother and a scientist, but she seems optimistic and happy with her choices. She firmly maintains that both can be done on an individual's personal timeline. "I think it's a different world than it was before," she says. "It's still rough. It's still not an easy, streamlined thing. But I feel it's certainly doable and if you're really passionate about this career, and you also need to develop the other part of your life at the same time—they can go hand-in-hand."