A Greener Red Carpet
In your Oscar speech, don't just preach sustainability — wear it.
February 07, 2020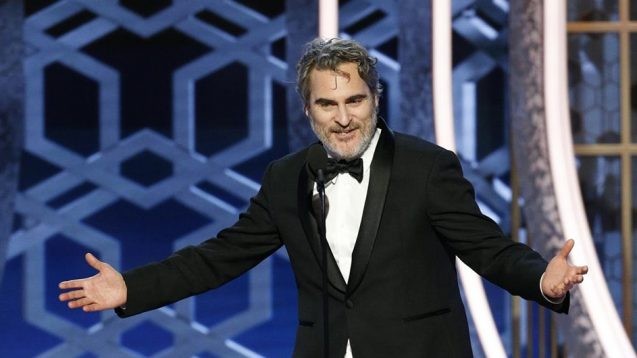 The actor Joaquin Phoenix, at this year's Golden Globe Awards, has vowed to recycle his tuxedo throughout the awards season.
Will Joaquin Phoenix show up at the Oscars in the Stella McCartney-designed tux he vowed to recycle throughout the awards season? Will Jennifer Aniston dress in a vintage gown as she did last month at the Screen Actors Guild Awards?
Call it eco-fashion, sustainable chic or clothing with a conscience, a new, green ethos is capturing Hollywood and beyond, from celebrities who auction off their attire to benefit environmental causes to those who transform discarded fabrics into a fresh, red carpet look.
Other bold-faced names paving the way toward sustainable fashion include Cate Blanchett, Julianne Moore, Helen Mirren, Emma Watson, Michelle Obama, Gwyneth Paltrow and Kate Middleton, known for re-wearing her outfits multiple times.
"Fashion is one of the most polluting industries in the world, reliant on petrochemicals, livestock and over consumption," said Theanne Schiros, a research scientist who leads a program at Columbia University to develop biodegradable materials for sustainable design.
The $2 trillion industry is responsible for 10 percent of the global carbon footprint and 20 percent of all industrial water pollution, Schiros said, thanks to "fast fashion," which allows brands to make and sell clothes faster than models can debut them on the runway. Eighty-five percent of clothes, shoes and accessories end up in incinerators or landfills, producing the potent greenhouse gas methane as they decompose.
Is Your Dress Alive?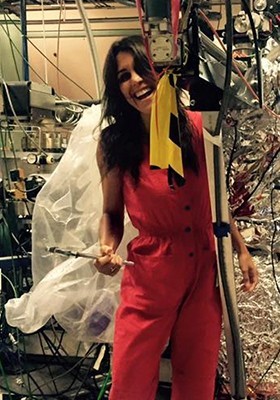 Theanne Schiros is a materials scientist who reimagines textiles through technology, biology and sustainable design.
Schiros, who is also an assistant professor of science and sustainability at the Fashion Institute of Technology, believes biology is the future of fashion.
"As a materials scientist, I find inspiration for innovation in nature, creating materials that both celebrate and protect biodiversity and have the potential to play a role in reversing climate change," said Schiros, whose research also has biomedical applications.
Her lab at Columbia grows biodegradable textiles from live organisms, such as fungi, yeast and bacteria to fabricate materials. She is a co-founder of AlgiKnit, a company that creates biodegradable yarn using polymers like those extracted from kelp. And through an initiative with the Slow Factory Foundation, Schiros is working with designer Telfar Clements to create a version of the trendy "Bushwick Birkin" bag made with a leather substitute derived from bacteria and plant dyes.
"It's exciting to see textile firms experiment with regenerative technologies and innovative materials, such as fabric made from food waste and plants," she said. "I've seen beautiful dresses made from banana peel fibers that feel just like silk."
A New Style Mantra
Robin Bell, a geophysicist and polar researcher at Columbia's Lamont Doherty Earth Observatory, is another scientist with a strong interest in the sustainable fashion movement.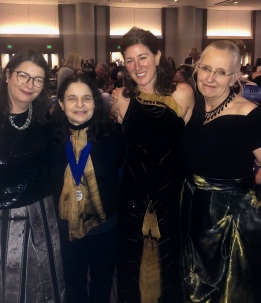 For an awards ceremony in December, four Lamont scientists wore custom-made science-themed outfits. From left to right: Maureen Raymo, Rosanne D'Arrigo, Nicole Davi, Robin Bell.
At the American Geophysical Union awards ceremony in December, four Columbia scientists wore custom-made science-themed outfits. From left to right: Maureen Raymo, Rosanne D'Arrigo, Nicole Davi, Robin Bell.
She creates her own sustainable clothing, and when she's not wearing Arctic gear on sub-zero expeditions, Bell enjoys making a science-inspired fashion statement. She collaborated with a dressmaker to design two climate-themed dresses that highlight her work studying ice sheet collapse in Greenland and Antarctica.
When she wears them on special occasions, "they never fail to spark a climate conversation," Bell said.
Bell believes the apparel industry has a unique opportunity to contribute to climate change solutions. Brands and retailers, she said, can play a two-fold role: One requires a commitment to climate action and a shift in priorities, the other is intellectual and emotional.
"Fashion touches people—their hearts and emotions," Bell said. "New designs that incorporate a playful aesthetic can bring about positive passion, reminding us of Earth's beauty and inspiring us to conserve and protect it."
She is also a big fan of vintage and second-hand clothing. "Some of my favorite shirts are the ones rescued from my mother's closet," she said. According to the 2019 ThreadUp Research Report, the pre-owned clothing market is exploding, growing faster than retail sector and poised to surpass it within a decade. Fashion subscription services, such as Rent the Runway, allow customers to rent and return designer dresses. Even the department store chain Nordstrom has made a foray into the recycling business, recently launching its own resale service, See You Tomorrow, both online and at its New York City store.
Bell is delighted to see a "reduce, reuse, recycle" message that embraces the idea that each individual can make a difference become part of the cultural lexicon.
"People are feeling anxious and scared about climate change," she said. "Fashion encapsulates the magnificence of our shared planet. It can reach people in ways that science cannot."
Schiros and Bell recently discussed their ideas at a sustainable fashion summit. Watch the video here.