Faculty Spotlight: Einat Lev, Volcanologist and Lava-Chaser
When she's not visiting active volcano sites or working in her "plumber's shop" of a lab, Lev is teaching the "Sustainability in the Face of Natural Disasters" for the Sustainability Science program.
April 21, 2023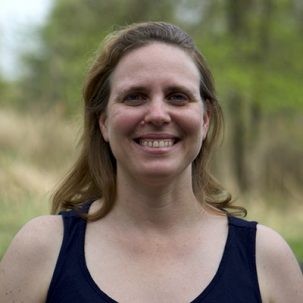 Einat Lev is an associate research professor at Columbia Climate School's Lamont-Doherty Earth Observatory and a professor in the Masters in Sustainability Science program.
Most of us spend our lives trying to avoid natural disasters, not rush into them. Yet Einat Lev, associate research professor at Columbia Climate School's Lamont-Doherty Earth Observatory, has made a career out of it. From a young age, the concept of plate tectonics piqued her interest, setting her on a path to study geophysics and later physical volcanology. This specialty has given her opportunities to peer into erupting volcanoes all around the world.
While her fieldwork is groundbreaking (pardon the earth science pun), much of Lev's research takes place inside the comfort of her "plumber's shop" of a lab, as she describes it. With pipes, pumps, and plastic tanks, her research looks nothing like the middle school science experiment which may first come to mind when we think "volcano."
When she's not visiting active volcano sites or making use of her "plumber's shop," Lev is teaching the "Sustainability in the Face of Natural Disasters" for the Masters in Sustainability Science program, offered by the School of Professional Studies in partnership with the Climate School.
How and when did you first become interested in volcanology? Was it the classic volcano science experiment in middle school that piqued your interest?
I have been interested in geology and physics since I was little. Always collecting rocks and building Lego sets. I grew up in a country that doesn't have much active volcanism, but is tectonically active, so I have been interested in plate tectonics since around middle school. I went to college and then to graduate school to study geophysics and learn about bigger picture tectonic processes. It was only in my postdoc that I decided to shift my attention towards physical volcanology.
Your research on physical volcanology often involves field work at active volcanoes. Your field-based projects include sites in Alaska, the Galapagos, Hawaii, Chile, and Iceland. From your travels to these locations, what's been the most exciting experience you've had? Any close calls with active volcanoes?
This is always a tough question for me to answer, because sometimes the most inspiring trips are also those where I see the impact on the people who live there. For example, my trips to Hawaii in 2018 and to the Canary Islands in 2021 were like that. One very exciting trip was to Iceland during the 2021 eruption of Fagradalsfjall, because it was very pretty, didn't hurt anyone, and since it was easily accessible, I got to bring my then 8-year-old daughter to see what I do!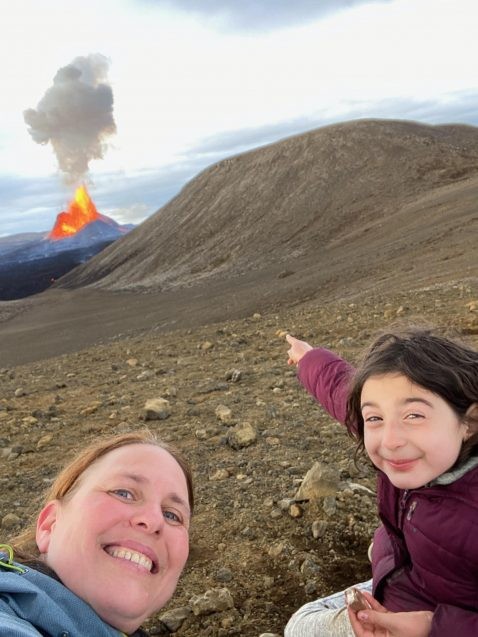 Einat and her daughter visiting a volcanic eruption in Iceland.
In addition to field work outside the laboratory, your research also includes laboratory experiments. What does your lab at the Lamont-Doherty Earth Observatory look like? Are there mini volcano experiments everywhere?
The lab looks a little bit like a plumber's shop, with pipes and plastic tanks and pumps and buckets of different fluids everywhere.  When we do experiments we focus on a specific process and simulate just that part, and we take caution to make sure the time scales and length scales make sense and are similar to the natural process we are simulating. So none of the setups looks like a volcano, but all look like specific parts of volcanic systems.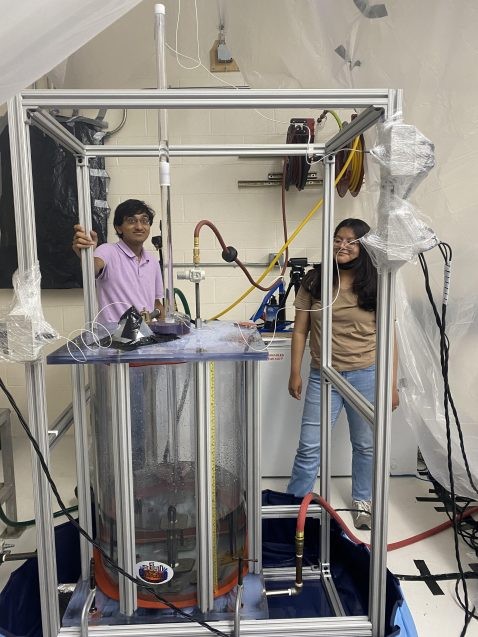 In the lab, Lev and her team use pipes, tanks, and pumps to simulate volcanic processes.
Your bio mentions that you are passionate about science education and expanding the reach of science education to all sections of society. What kind of education-based activities are you involved with at Lamont or beyond?
I had the fortune to be involved in a wide variety of educational activities. The fact that almost everyone loves volcanoes also helps! I've given lectures in public forums such as museums, and worked with teachers who came to the lab or attended Lamont's "Earth2Class" program to develop lesson plans about volcanoes or the Earth or physics. I regularly participate in schools' Career Days to talk about my job. We also love doing hands-on and quite a bit messy demonstrations at Lamont's Open House event and similar events in the city, where we simulate lava flows using wax.
Why should students take your course ? What will they take away from it?
The course distills the often vague concepts of hazard, risk, and disaster into actionable items that relate to preparedness and response, which are all critical to reduce the negative impact of disasters. We do it by surveying the different types of hazards and introducing monitoring and modeling methods as well as response strategies. We discuss many case examples and learn from them. We also invite guest speakers who are experts working "in the trenches" of the preparation and response to various hazards. It is a very varied course with lots of different topics and activities and modes of learning, so I think everyone in the program can find it interesting and useful.
Frederique Fyhr is an intern with the M.S. in Sustainability Management program at Columbia University.