Why I Decided to Stand Up for Climate Science
A young researcher explains why she is taking to advocacy for science.
May 10, 2017
By Sheean T. Haley
Scientists aren't typically known to be emotional, but recently, when I faced a room packed with colleagues, media and my six-month-old daughter, who was wearing her little sunhat and smiling from her perch in my husband's arms, I had to fight back tears. I had been asked to speak at a press conference addressing the importance of funding for climate science, and I knew it was the right time and place to speak out.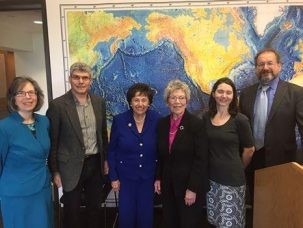 Researcher Sheean T. Haley of the Lamont-Doherty Earth Observatory, second from right, spoke about the importance of pursuing climate science at a press conference held at Lamont by U.S. Rep. Nita Lowey, third from left. Photo courtesy WAMC
The main speaker at the conference, held at Columbia University's Lamont-Doherty Earth Observatory, was our local congresswoman, Nita Lowey. The visit happened in part because I felt compelled by the direction of our nation's new presidential administration to cross over from research to advocacy.
In the weeks leading up to the election, my life had changed dramatically. In October, I became a mother for the first time. On Election Day, I took my 3-week-old daughter to vote with me. I wanted her to be a part of history, to start her life in a world where the president of the United States could be her role model.
I reeled after the election. I wanted desperately to find a silver lining, but struggled to cope with analyses of how the incoming administration might turn healthcare, civil rights, foreign policy, the economy, the environment and scientific progress upside down. I had never felt so frantic, so out of control.
In my career as a scientist, controlling for things is something that I do well. It's required to perform good science. Changing one or more variables in an experiment is useful only if you have something unchanged for comparison. The election seemed to change everything. But I knew from years of designing experiments that there is always something that can be controlled, even if it seems small. As the Trump administration took office, my anger and anxiety propelled me to take action.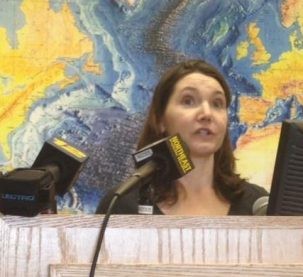 Author Sheean T. Haley speaks at a press conference about the importance of funding climate science. Photo courtesy of WAMC
I headed to Lowey's office. A colleague of mine, Gwenn Hennon, also a scientist and a mother of a young child, and I went with a small group that had developed as a follow-up to the Women's March (womensmarch.com) in January. Several members of the group chose to address the Affordable Care Act and changes to our nation's immigration policies. Gwenn and I were there to convey to Lowey that an administration that does not value and heed the work of scientists is frightening, and to express our opinion that ignoring the interconnectedness of all scientific disciplines, particularly as they pertain to climate change, is short-sighted.
Weeks later, I was standing shoulder to shoulder with the congresswoman before a crowd of journalists and some of the sharpest scientific minds on earth at the press conference.
I started by telling them how, during my pregnancy last summer, the threat of Zika became very real for me. Zika, and other insect-borne diseases, are forecast to spread with climate change, putting more women at risk, and everyone at greater risk for diseases such as West Nile and Lyme disease. Other impacts of climate change are equally frightening. Hotter, drier summers will propagate food crop diseases. Many areas are vulnerable to flooding, erosion, storm damage and catastrophic fires. Whole communities have been and will continue to be displaced in response to such events.  And these events don't occur in isolation from one another; one damaging catastrophe can beget another. Denying or silencing the science behind these predictions won't stop these events from happening. But it will prevent us from taking action to mitigate the consequences.
Rebuffing the scientific consensus and sowing confusion about climate change doesn't just make us unprepared to deal with its impacts; it also hurts our international competitiveness in science and technology. Other nations are actively encouraging scientists like us to leave the United States and take our talents elsewhere. If we want the next great discovery in medicine, engineering or technology to be labeled "made in the USA," we need to support and encourage young scientists who are working on behalf of our nation.
Under the veneer of stoicism and regimentation that many scientists display, most care very deeply about doing good science that helps others. I had not expected my story to resonate with my colleagues, but it did.
Small efforts can have a big impact. What began for me as a spinning feeling of helplessness refocused into action when I realized that the Congresswoman heard me, and was also prepared to speak out. I will continue to act, to draw attention to the value of science and to support those who are working towards the same goal.
NY Congresswoman Denounces Proposed Budget Cuts for Climate Science
Sheean T. Haley is a senior staff associate at Lamont-Doherty Earth Observatory.
Save
Save