Staff Spotlight: David Phelan, Business Manager
As the business manager on the Earth Institute communications team, David keeps the department running smoothly and is always ready to help a colleague in need.
August 06, 2021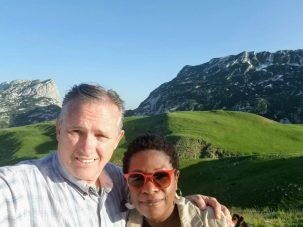 The Staff Spotlight series features Earth Institute staff members from across the Morningside, Lamont and the Irving Medical Center campuses. The series is intended to highlight the important work our staff members do to keep the Earth Institute running smoothly and to support our mission of guiding the world onto more sustainable paths. These interviews discuss staff members' careers, their interest in our institute, and insights that might be relatable and useful for the rest of us.
This month's spotlight is on David Phelan, who works on the Lamont campus. As the business manager on the Earth Institute communications team, he keeps the department running smoothly and is always ready to help a colleague in need. 
What is your role at present?
I am the business manager for the Earth Institute communications department.
How and when did you connect with us?
I started in June of 2001 with a team of five with offices in Lamont Hall at the Lamont-Doherty Earth Observatory. My main office remains at Lamont and I am now in my fifth location, a record I am told.
What aspects of your job inspire you?
The expertise at the Earth Institute impresses me. I can recall over the years how our experts have been called on in every natural disaster, from the tsunamis to earthquakes and everything in between.
What are some fun memorable events that happened on campus?
The 2004 tsunami in the Indian Ocean occurred on December 26th, when most were away on holiday. I recall my wife and I going to Lamont to assist the then-director of communications to field requests from the media. We had a few very busy days, but it was a memorable experience!
I have always enjoyed participating in the Open Houses at Lamont, especially watching the young ones get excited about science. It has also been a great opportunity to work with others from around the Earth Institute that I normally don't interact with.
A funny story, at least from my vantage point. One of my office locations at Lamont was Guest House 6; my office had a door just a few feet away that I would often leave open during good weather. One day I stepped away for no more than five minutes and returned to see a 3-4' snake under my desk.  I found a broom and used the handle to pick up the snake and decided to show to a workmate in another office who I sincerely thought would enjoy it since they are a nature lover. News flash: nature lover does not equal snake lover. The moment they saw the snake they started screaming and ran out of the house and kept running for some distance.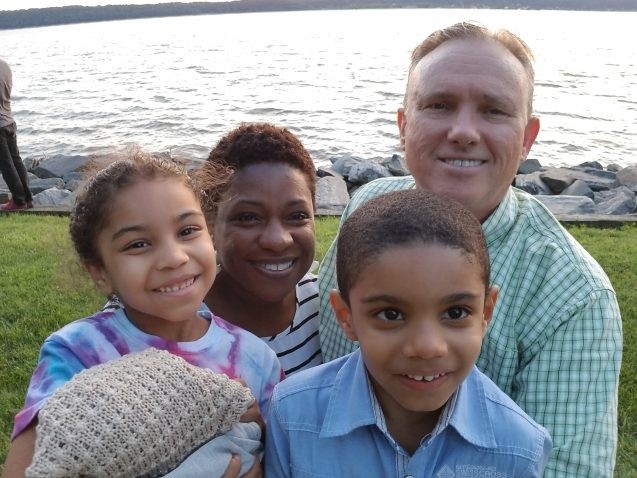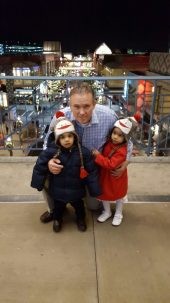 David with his grandchildren.
How do you spend leisure time?
My wife and I love to travel and do so at every opportunity. During the pandemic we explored some local destinations. We also enjoy just setting up a couple lawn chairs at some of our favorite locations along the Hudson River and in the Hudson Valley.
While we do not have children, we do have two lovely 'grandchildren' (a separate story) which we spend a good amount of time with. They are a great source of joy!
If there was one lesson or advice you could give us, what would that be?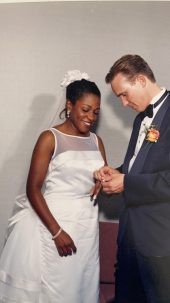 "There is more happiness in giving than in receiving." Looking back on my life the happiest moments have been when I had the opportunity to help others, from volunteer work to spending time with our grandchildren.  Whenever I feel 'down', I try to do something for someone else and it always lifts my spirits!
How has the pandemic influenced you?
It has reminded me how much I don't like the city (sorry city dwellers), or the commute that comes along with it.  I very much enjoy spending more time with my wife who has also been working remotely since March of 2020.  It has limited our travel which has been a challenge but forced us to explore local destinations.