The Long Life of Death Valley
Geologist Nicholas Christie-Blick has studied the Death Valley region for more than four decades. Each spring, he leads a group of Columbia University undergraduates there on a fieldtrip. Check out highlights from this year's trip.
August 11, 2014
Death Valley is a land of extremes—among the hottest, driest and lowest points on earth. Why would anyone choose to spend spring break there?
"It just sounds very exotic," says Nicholas Christie-Blick, a geology professor and research scientist at Columbia University's Lamont-Doherty Earth Observatory. "It's very far away from their personal experience."
This past spring, Christie-Blick led his tenth undergraduate fieldtrip to California's Death Valley National Park. For seven days, a group of freshmen and sophomores followed him up mountains and alluvial fans, through canyons and ancient sea beds, learning about the events that have shaped this part of the Basin and Range Province, a landscape still forming today as the western United States slowly stretches apart. As cracks open in earth's crust, mountains are uplifted and valleys dropped down. This repeating set of steep mountains and flat, dry valleys, runs from Idaho to northern Mexico.
In Death Valley, among the youngest and most volcanically active parts of the Basin Range, many of the students ticked off several life firsts: first time hunting for fossils and sleeping under the stars, first time walking into the crater of a recent volcanic explosion and cooking enchiladas for a group of 20. The trip has become so popular that Christie-Blick routinely turns students away while many of those who finish the course go on to become earth and environmental science majors. Not a bad record for a fieldtrip once deemed too morbid to attract takers.
Image Carousel with 22 slides
A carousel is a rotating set of images. Use the previous and next buttons to change the displayed slide
Slide 1: Death Valley National Park is the lowest "basin" in the Basin and Range Province, a region of steep mountains alternating with flat, dry valleys, running from Idaho to northern Mexico. Over the last 15 million years or so, tectonic forces d

Slide 2: Geologist Nicholas Christie-Blick has studied the Death Valley region for more than four decades, and this past spring, led his tenth undergraduate trip there. When Christie-Blick was a student at Cambridge, about the same age as his students, a fiel

Slide 3: With a teaching style that emphasizes observation and creative interpretation, Christie-Blick pushes his students to see and think like geologists. "Everything in geology is a series of steps," he says at one outcrop. "We can see what

Slide 4: Spring brings the chance of rain and a desert alive with wildflowers. By summer, however, the scorching heat makes this corner of the Mojave Desert inhospitable to most life. In July 1913, Death Valley reached 134 degrees Fahrenheit, the hottest temp

Slide 5: Hours after landing in Las Vegas, the students are set loose on the sandstone rocks of Calico Hills to figure out why the pink and white layers of rock are crisscrossed. They get one clue: the sediments were deposited about 180 million years ago, whe

Slide 6: Inspecting the sandstone layers under a hand lens, Xin Xu discovers that the thinnest layers of rock feature coarser grains stacked on finer grains. This distinctive pattern is a characteristic of wind-swept sand dunes.

Slide 7: Most of the action in the Basin and Range happened during two main periods; a shortening phase, occurring sporadically between 300 million and 65 million years ago, followed by a stretching phase, starting about 15 million

Slide 8: The chunk of igneous rock in Christie-Blick's hand plays a central role in an ongoing debate about how much earth's crust has stretched in this region. The rock's age and unique mineral composition indicates that it came from the Cotto

Slide 9: Death Valley is among the youngest and most volcanically active parts of the Basin and Range. At Zabriskie Point, minerals from hot springs give the silty sediments rose and mustard-colored hues. The rain-sculpted badlands are the remnants of an anci

Slide 10: At Gower Gulch, successive floods have carved a gully into the alluvial fan spilling off the hills behind. Here, the students investigate the fault zone that marks the edge of the Black Mountains and try to figure out why a gully exists at this lo

Slide 11: On this hill above Mosaic Canyon, the students followed Christie-Blick around the ridge to the right to look at the orientation of the fault dividing the brown and gray rocks. Observing the fault from another vantage point allows the students to figu

Slide 12: The half-mile wide Ubehebe Crater is a reminder that Death Valley is a landscape still in active transformation. In a recent study, Christie-Blick and colleagues found that Ubehebe formed as recently as 800 years ago, when a plume of rising magma hit

Slide 13: Walking away from Ubehebe Crater, the students head toward a gully where successive layers of volcanic material are visible in cross-section. The volcanic flows slowed as they traveled away from the crater walls, leaving sedimentary

Slide 14: While Death Valley's Mesquite Flat Dunes are popular with tourists, Christie-Blick prefers to take his students to a set of smaller, less-traveled dunes nearby. Here, Meara Hayden (right), Tina Liu and Xin Xu examine variations in sand grain si

Slide 15: The wind picks up unexpectedly, and the students are treated to a live demonstration of how grains of sand move, along with sand ripples and larger-scale dunes.

Slide 16: On the bed of the prehistoric lake that once filled Death Valley, salt crystals grow and disrupt the sedimentary surface. Left undisturbed, the natural furrows formed by the crystals resemble a plowed field. But when it rains or people tr

Slide 17: A warm, shallow sea covered much of the Death Valley region about 510 million years ago, as earth's first complex organisms were starting to evolve. Some of the sediments deposited in that ancient sea now form this mountainside at Emigrant Pass.

Slide 18: The rocks at Emigrant Pass contain remnants of microbial life that dominated the planet before complex life appeared during the Cambrian explosion. Marissa Wasmuth (left) and Anna Fu sketch the shapes imprinted in the rock to understand their three-d

Slide 19: The shallow sea left other remains, including broken bits of trilobite, an extinct ancestor of the horseshoe crab, which once thrived in the Cambrian sea. Teaching assistant John Templeton shows Kayla Neville a trilobite fragment.

Slide 20: Any trip to the desert has its mishaps, and this one happened on the second to last day, when both vans got stuck in the sand at Sperry Wash. Putting their geology skills to use, the students jacked up the two vans, slid rocks under the rear wheels

Slide 21: Extensive mining in the Basin and Range has left scars on the landscape, including this open-pit quarry in the Alexander Hills. The students are turned loose in the quarry and asked to figure out what used to be mined there, and how the mineral was f

Slide 22: The last day of the trip builds to a great reveal on this summit, near War Eagle Mine. Here, the students figure out the significance of the tube and dome-shaped structures in the rocks they noticed on the hike up. In that moment of surprise, the pow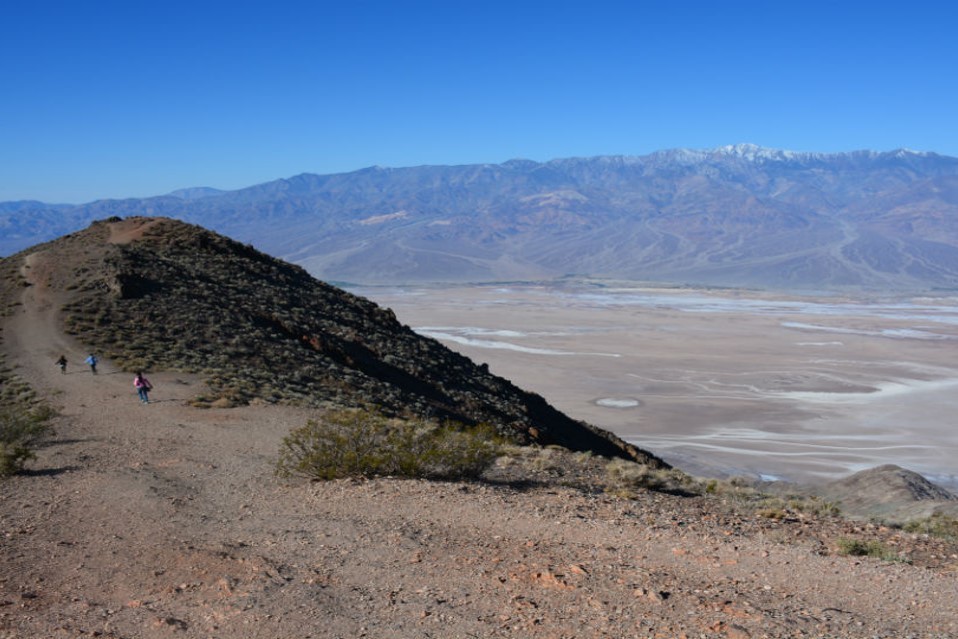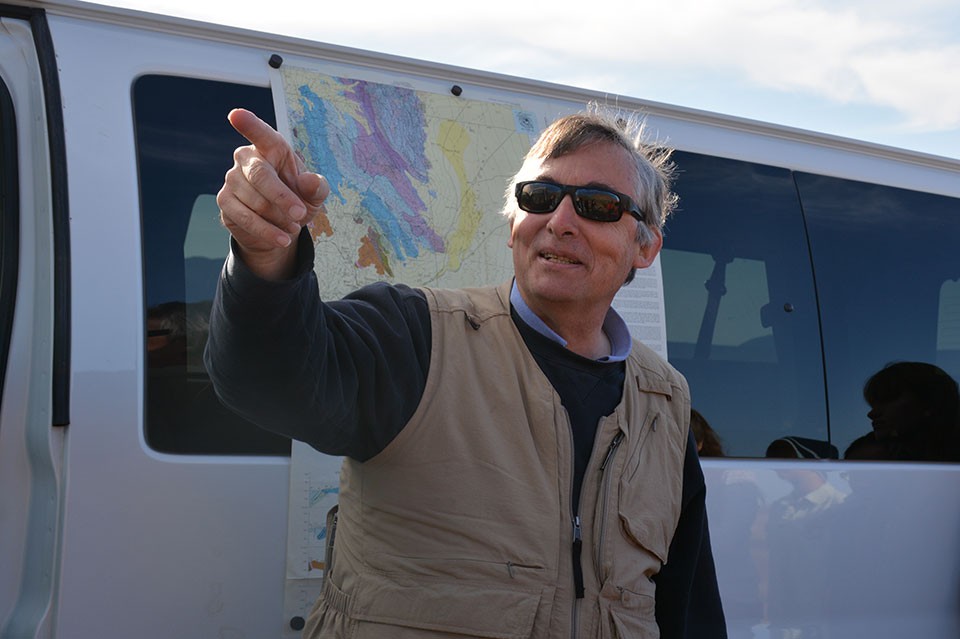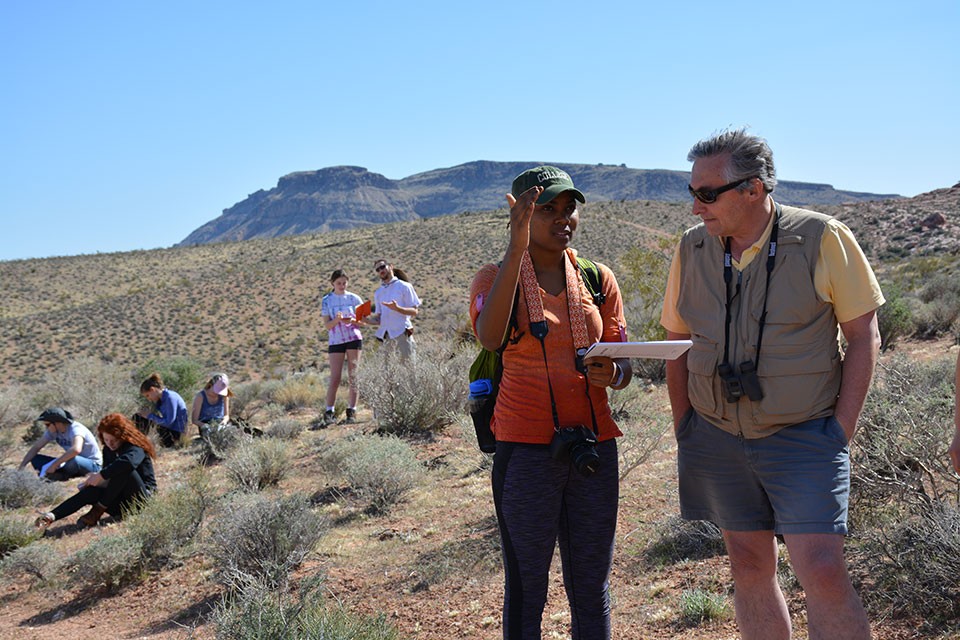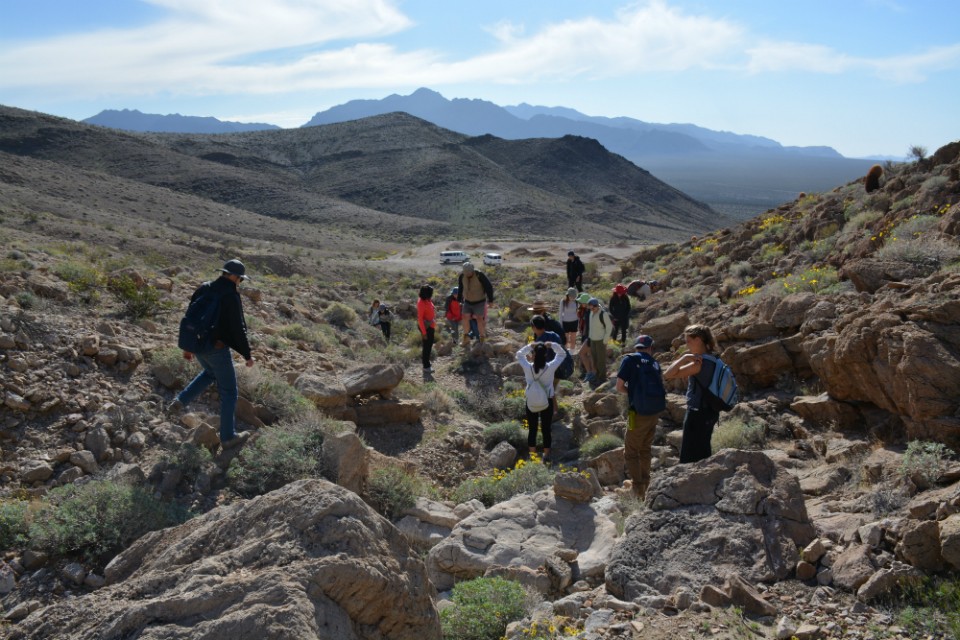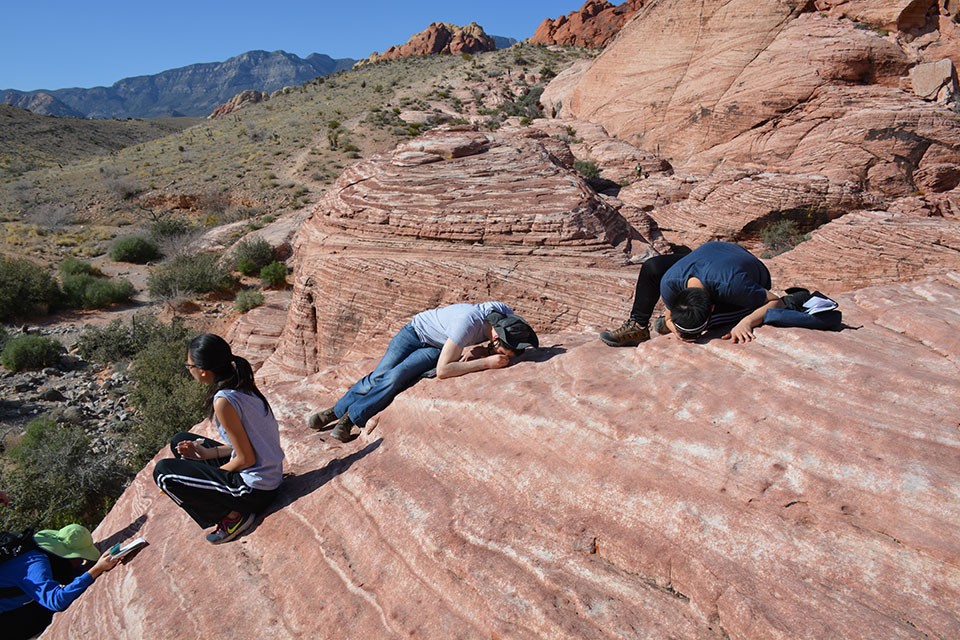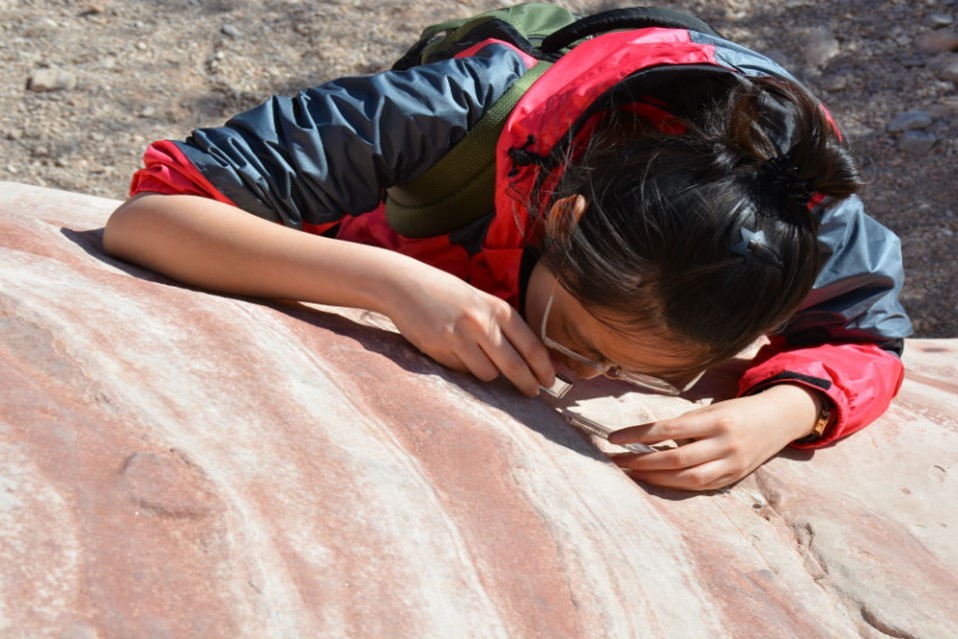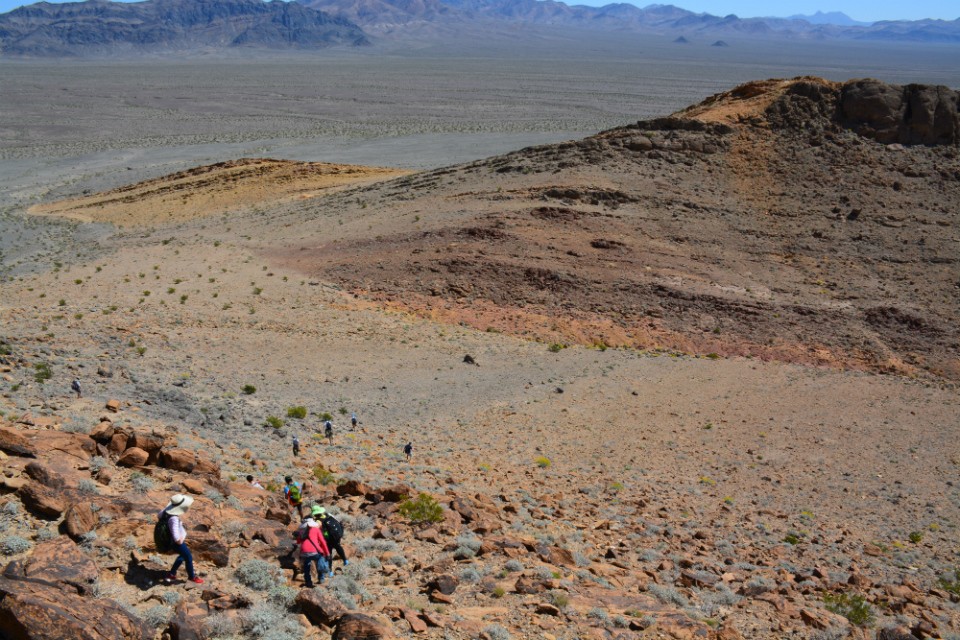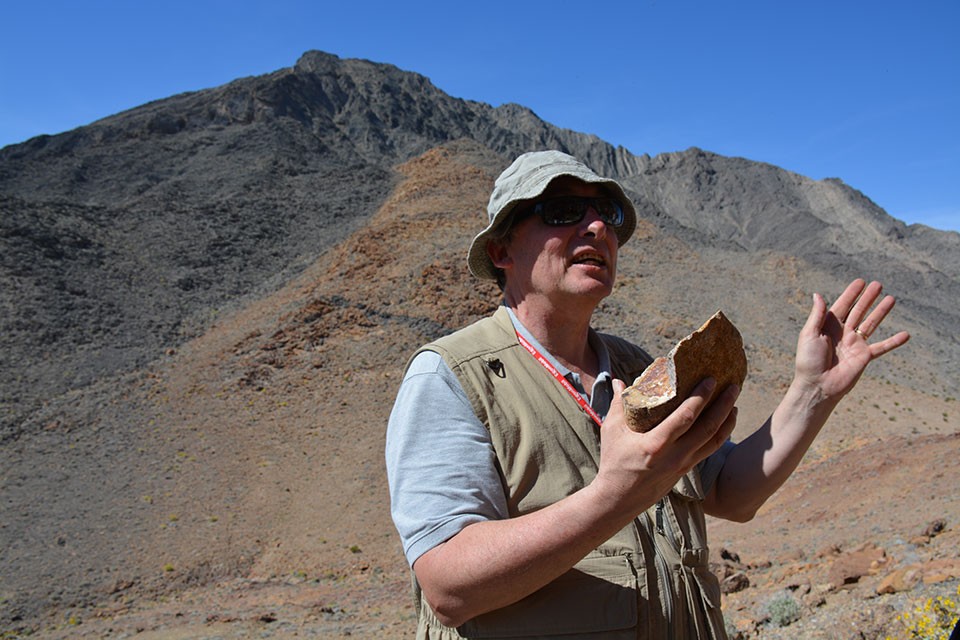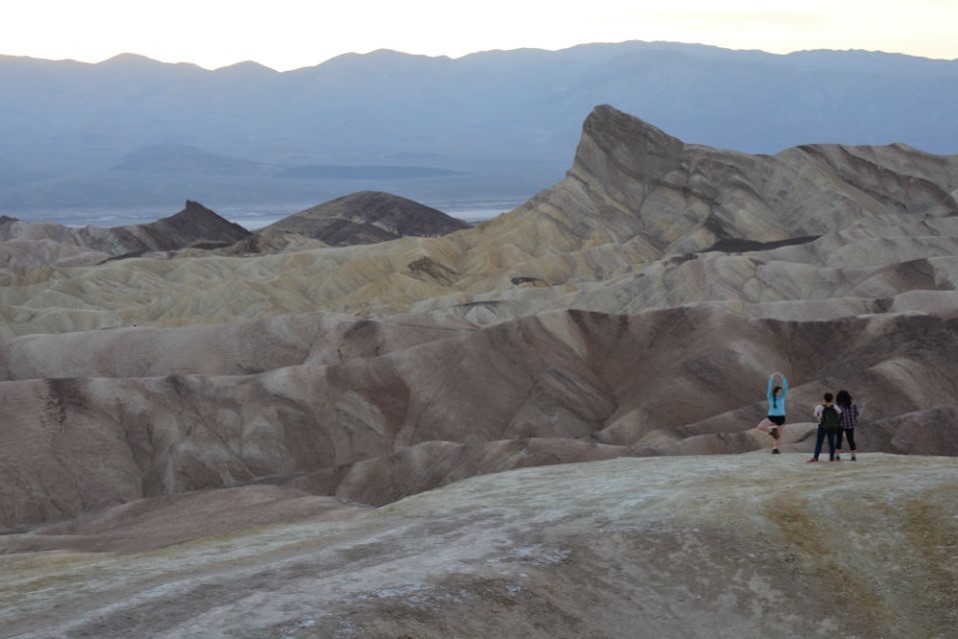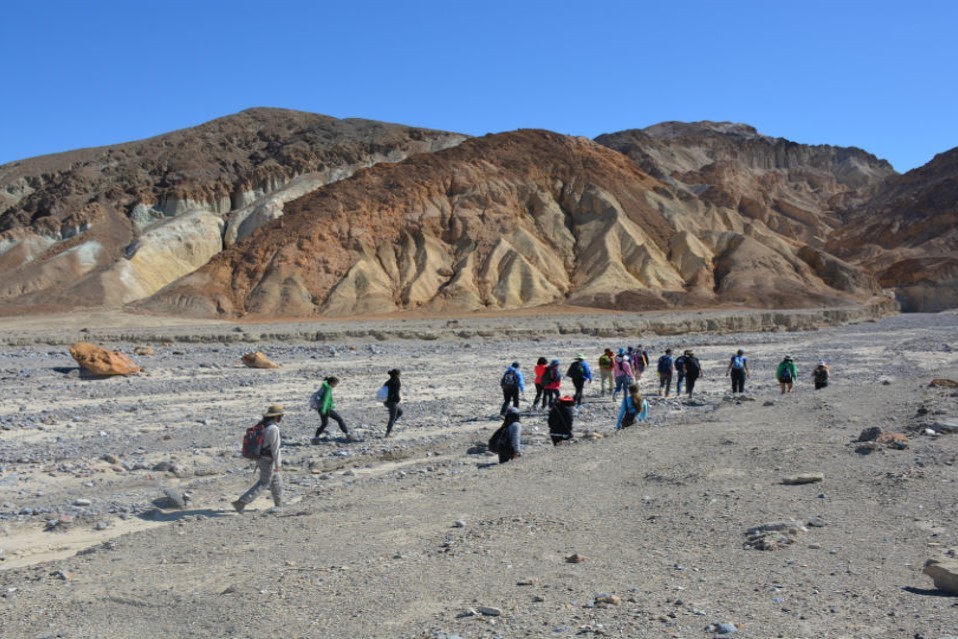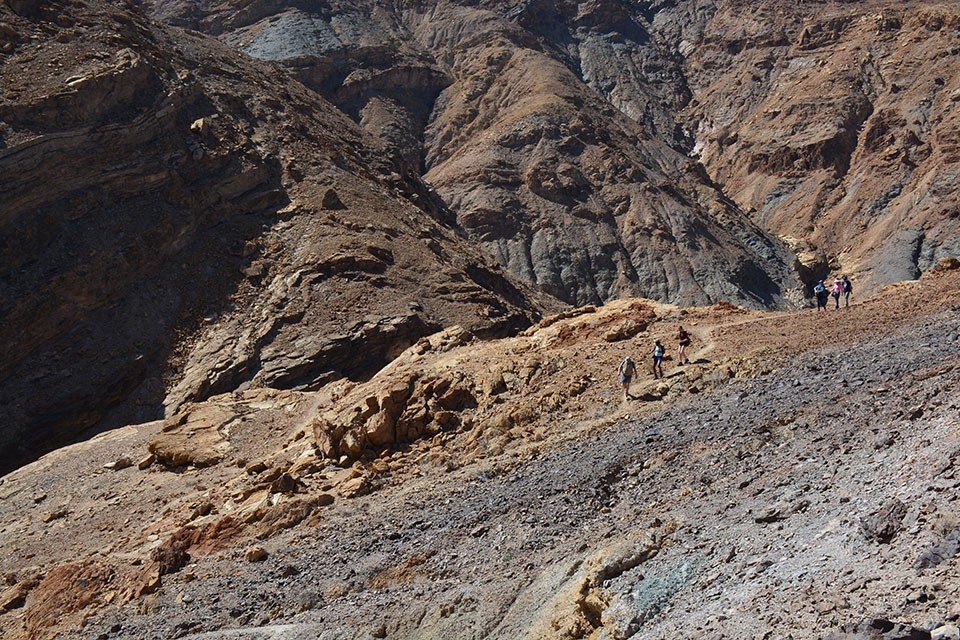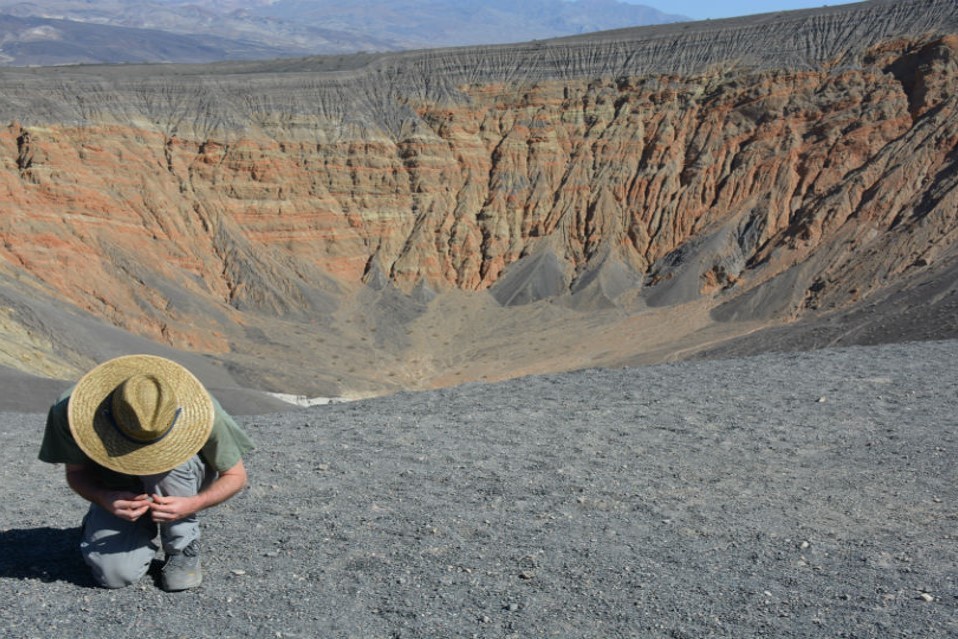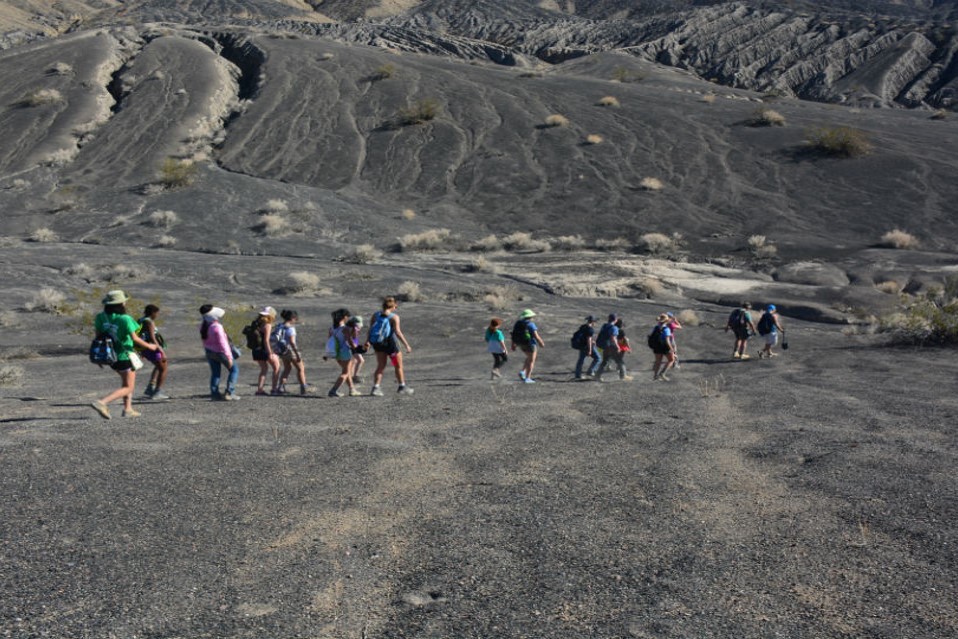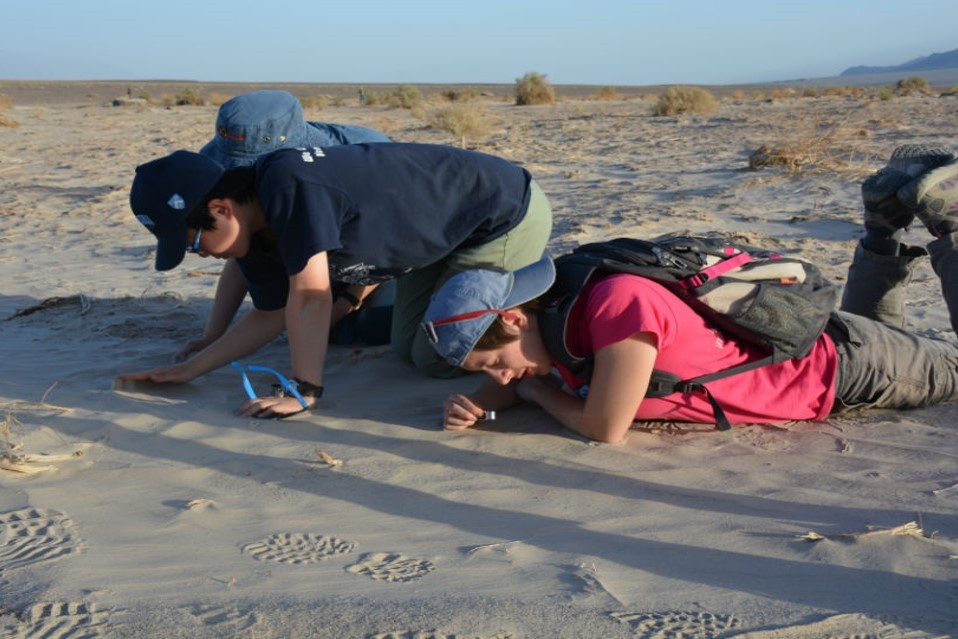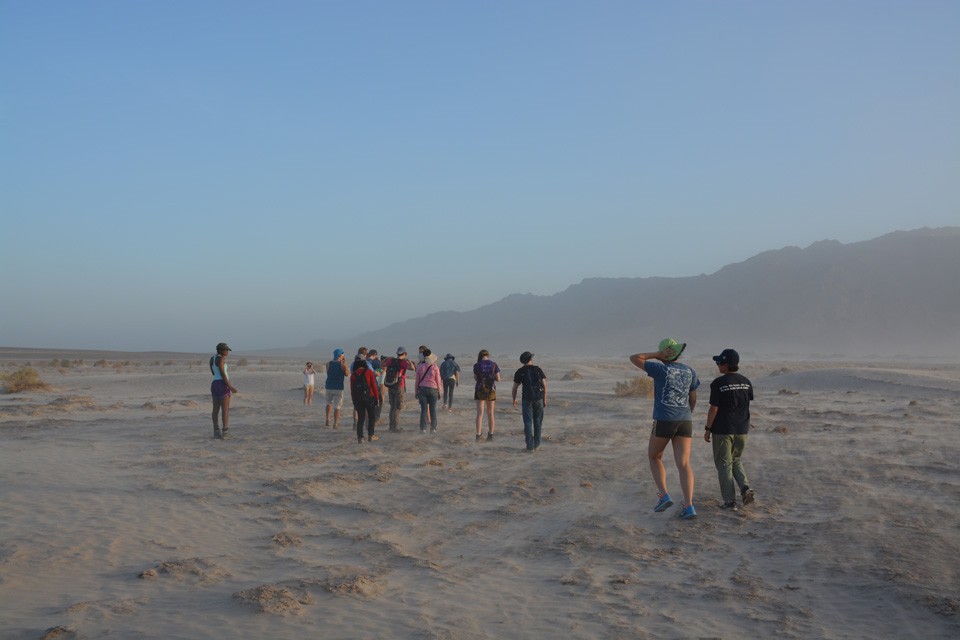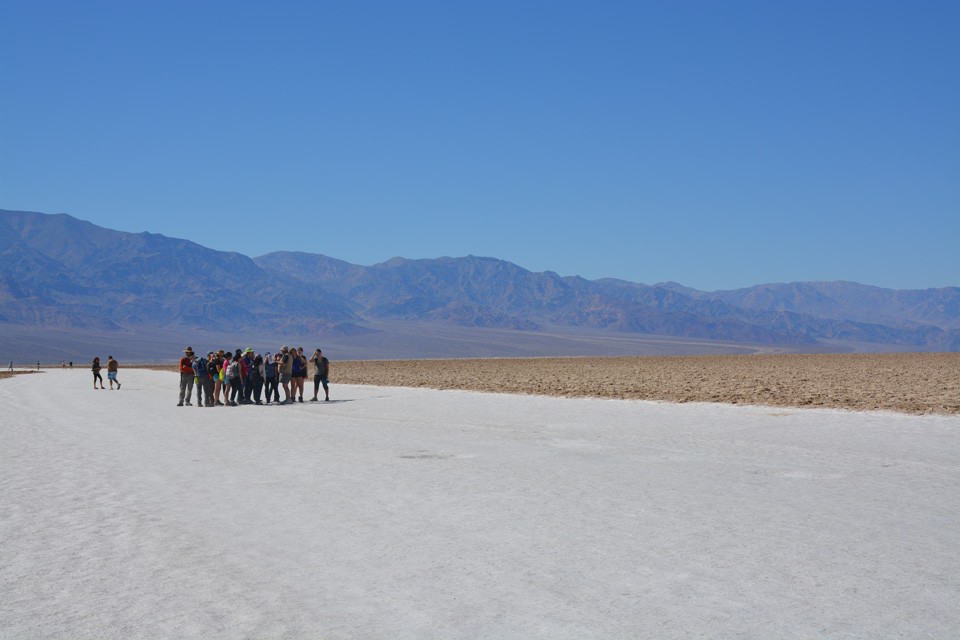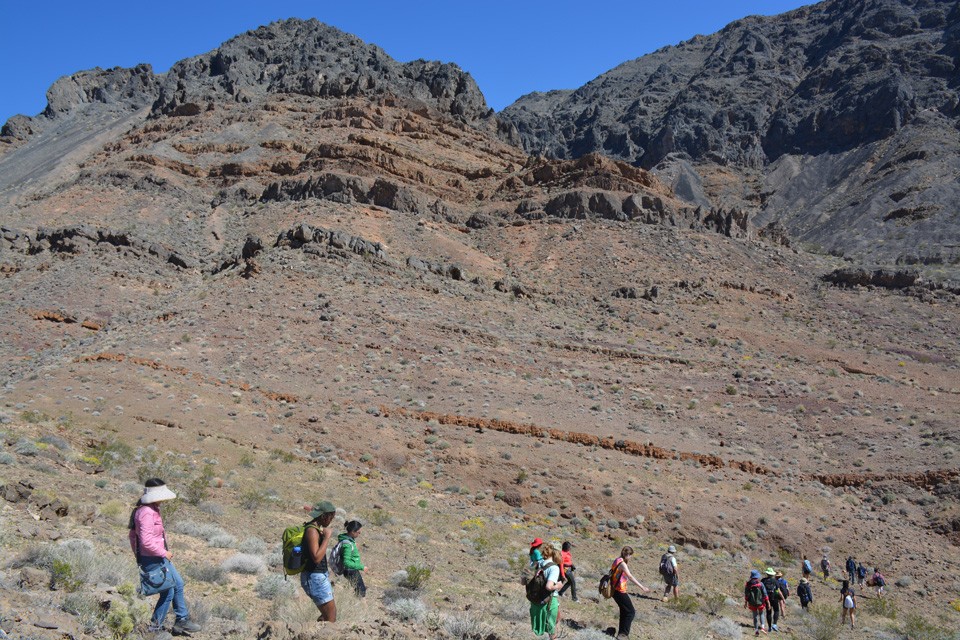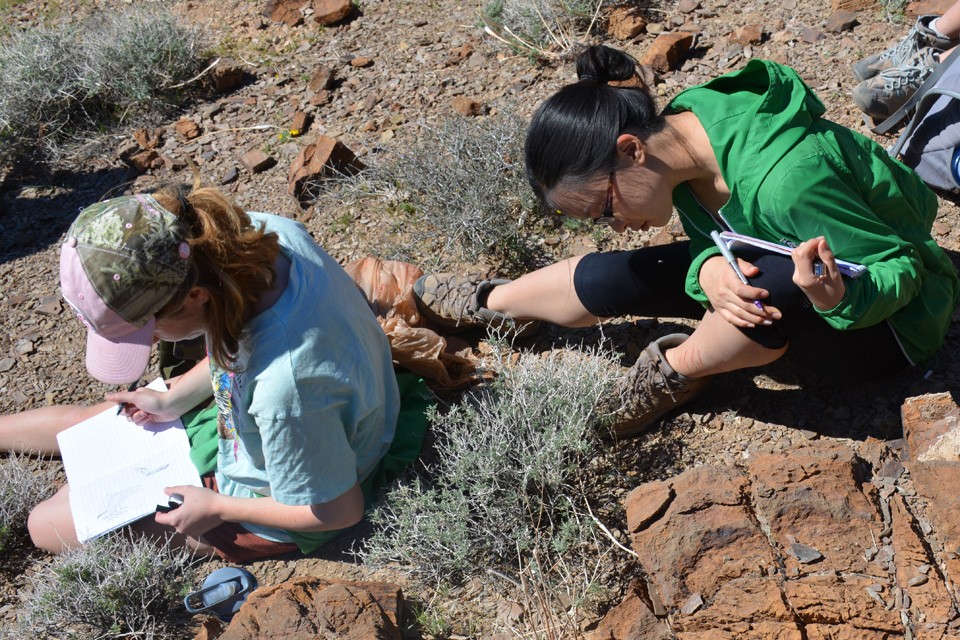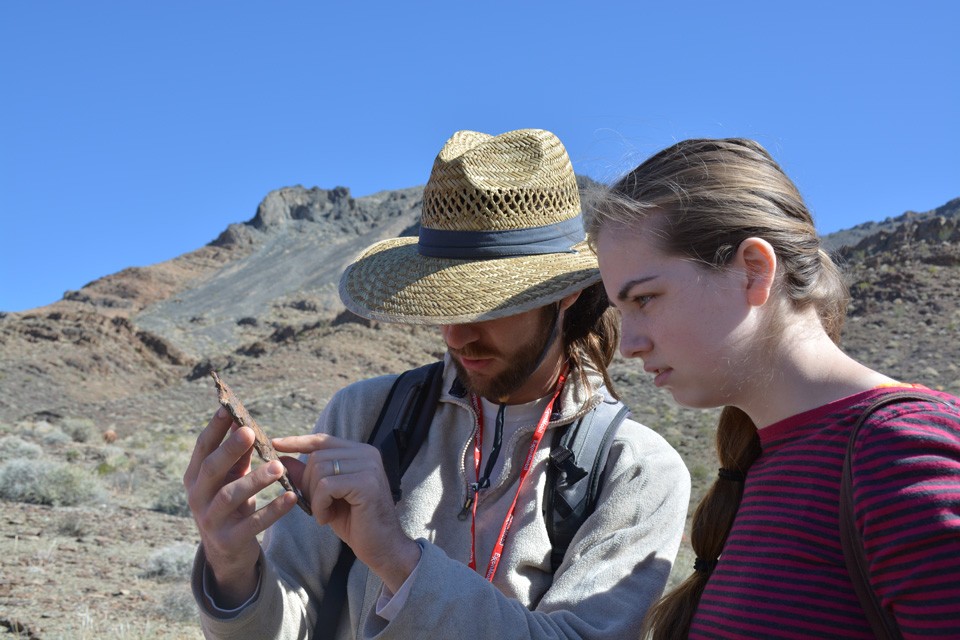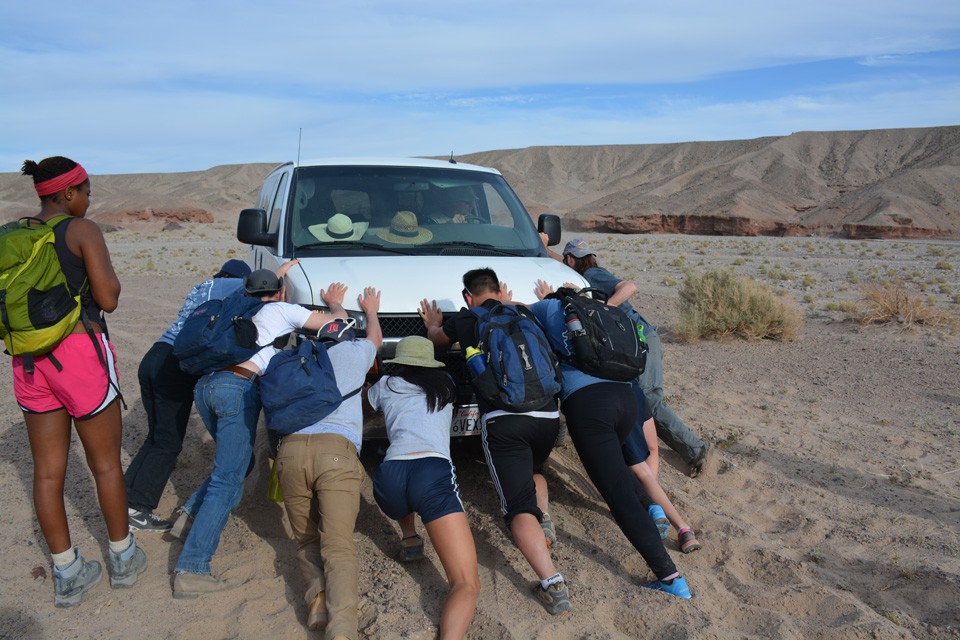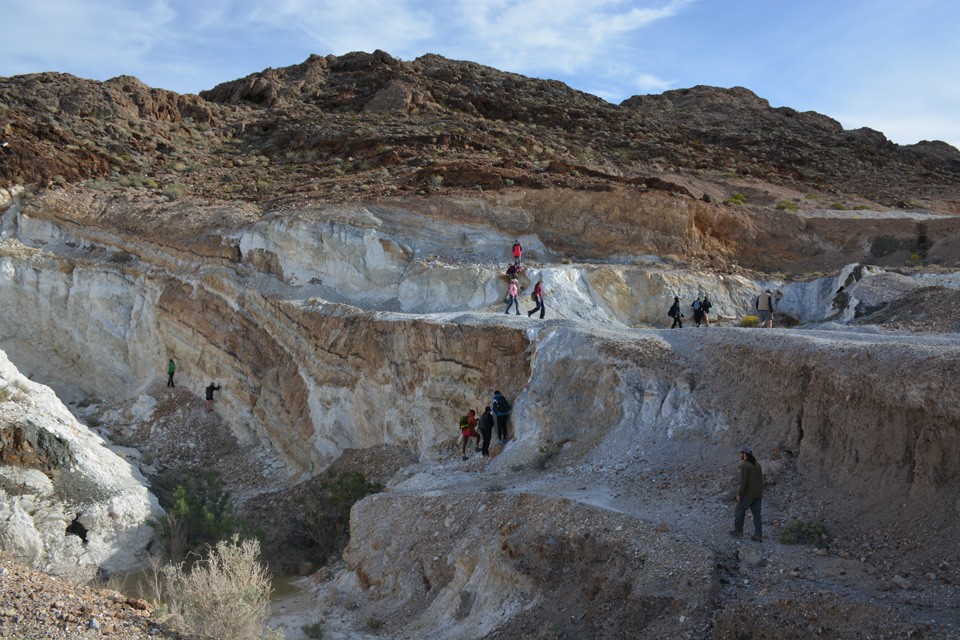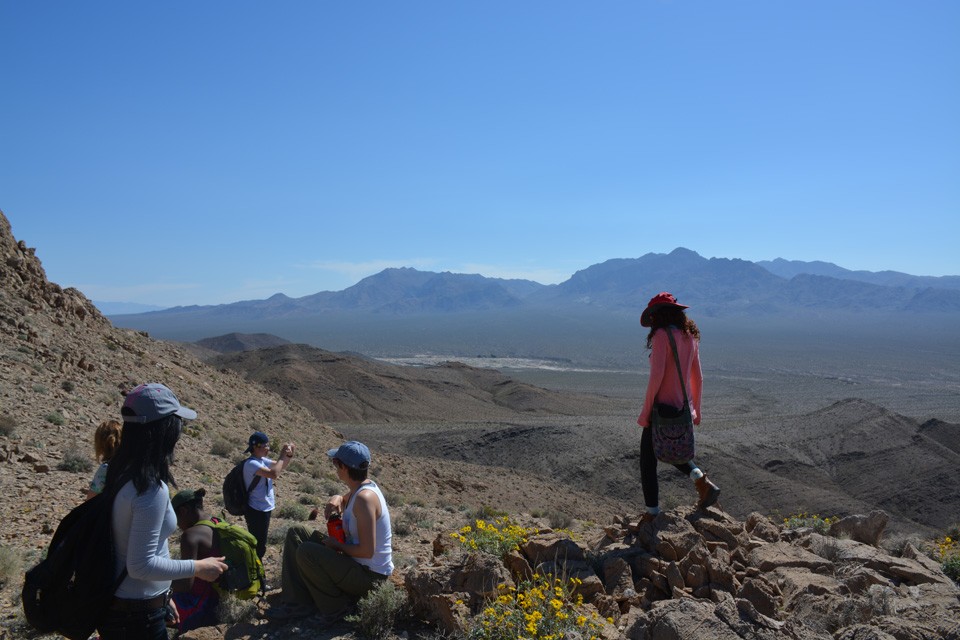 Previous
Next
University geology departments are full of people who came to the field after a life-changing experience outdoors. For Christie-Blick, it was a fieldtrip to Scotland's Isle of Arran as a student at Cambridge University. Fascinated by the varied landscape and the stories it held, he abandoned physics. Now a veteran geologist, he tries to recreate that sense of spontaneous exploration and discovery he felt when he was the same age as his students.
To hold their interest he refuses to lecture. It would be easier and quicker to stand at an outcrop and tell the students what they need to know. Instead, he lets them look for themselves and interpret what they see. "Everything in geology is a series of steps," he says, under a sandstone arch called Natural Bridge. "We can see what it is now but how did it get that way?"
To understand how it got that way, Christie-Blick will walk his students around a mountain to where the orientation of a fault is visible, as he did at Mosaic Canyon. He will urge them to look at grains of sand under their hand lenses, as he did at Calico Hills, near Las Vegas. He will ask them to sketch what they see, as he did at Emigrant Pass. "Their drawings are not necessarily very good—that's not the point," he says. "It's the whole exercise of looking that contributes to their understanding."
He will often seem unbothered if they miss the point. "Sometimes he seems reluctant to tell them the answer, which is his way of letting the students come to their own conclusions," said John Templeton, a graduate student at Lamont-Doherty who served as Christie-Blick's teaching assistant.
The answers don't particularly matter, Christie-Blick admits. "I want to see how they get to the answer. I want them to come away with an appreciation of how science is done."
Christie-Blick has spent more than four decades studying past climate and tectonics in the Basin and Range, including as a PhD student at the University of California at Santa Barbara. Still, many questions remain, and Christie-Blick likes to also introduce his students to the frontier of his field. For that reason, he includes a seven-page bibliography referencing all the primary research they discuss.
Standing at Badwater Turtleback, where a gently-sloping fault is exposed on a tall canyon wall, Christie-Blick ticks off the explanations for this geological oddity. Normally, extensional faults like this one should form a steep angle, to overcome friction. Yet, several places in the Basin and Range are sloped at low angles. Is there something we have yet to learn about fault mechanics? Or has a later event like a landslide reoriented the rocks to appear as a low-angle fault?
This is one of the problems that Christie-Blick himself is studying in Death Valley. What geologists learn here, in the Basin and Range, about extensional faulting and the stretching of earth's crust, may be applied to western Turkey and Greece's Aegean Islands where similar processes are underway.
At Badwater Turtleback and other outcrops, Christie-Blick offers research ideas, challenging his students to join the debate. At least one has. After a 2008 trip that introduced the mystery of Ubehebe Crater's age, Perri Sasnett returned to the crater to collect rock samples. With Christie-Blick and her former teaching assistant, Brent Goehring, now a professor at Tulane University, she used surface-exposure dating to date the rocks spewed during Ubehebe's last explosion. To their surprise, the results showed Ubehebe had exploded as recently as 800 years ago, suggesting that parts of Death Valley may be more volcanically active than previously thought.
Each trip presents its hardships. This year, when both vans got stuck in the sand, the students figured out how to get them out by jacking up the vehicles and sliding rocks under the wheels to provide traction. They braved a sandstorm on their second night camping but no one complained when Christie-Blick sounded the gong to make breakfast. At the last outcrop, on the last day of the trip, the students gave Christie-Blick a standing ovation to the tune of the Columbia fight song: Roar, Lion, Roar! His love of the rocks, it turned out, was contagious.
"He takes first and second year undergraduates with very little earth science education and takes them right up to graduate level questions, observations and interpretations," said Templeton. "By the end of the week they have come a lot farther than they thought they would, or thought they could, and that's fun to see."