At the Intersection of Hudson River Microbiology and Environmental Justice With Elise Myers
She's trying predict fecal bacteria contamination of the river, and researching how environmental degradation disproportionately harms disadvantaged communities.
February 11, 2021
This Q&A is part of a short series highlighting some of the Earth Institute's women scientists as part of the International Day of Women and Girls in Science on February 11. Read more about the day and our related blog posts here.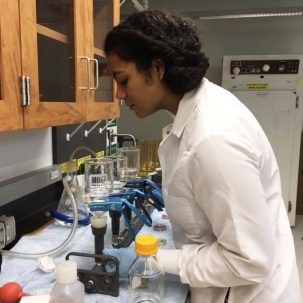 Doctoral candidate Elise Myers is trying predict fecal bacteria contamination of the Hudson river. She also studies how environmental degradation disproportionately harms disadvantaged communities. Photo: Greta Moran
Elise McKenna Myers is drawn to the interdisciplinary nature of things. From the second grade, growing up in Baltimore County, Maryland, she knew she wanted to be a marine biologist, and yet, she chose to study at the art and technology high school. She thought that finding beauty and purpose in art and focusing on creative writing and journalism would help her to communicate her science. She was right. Today her research goes to the core of both cutting-edge discovery and environmental justice issues.
As a biological oceanographer and doctoral candidate at Columbia's Lamont-Doherty Earth Observatory, Myers is studying the microbial life of the Hudson River, combining fieldwork, experimentation, and modeling to gain a better understanding of how fecal bacteria contaminates, lives, and dies in the estuary. Her work can ultimately help answer the question, how safe is it to swim in the Hudson? Myers is also committed to surfacing the inherent injustice that environmental degradation creates for underserved communities. To this end, she is a devoted mentor and a dynamic public speaker.
We spoke to Myers on the eve of the International Day of Women and Girls in Science, a day in which she hopes women scientists will think about ways to take action to support and encourage girls to explore geosciences.*
Your current work involves exploring how microbial models can be linked to fluid dynamics to predict the mortality and transport of fecal indicator bacteria in the Hudson River. What does that mean to the layperson who lives near and wants to swim, boat, or fish in the Hudson?
If I wanted to tell you if you could, biologically speaking, swim in the Hudson today, I can only take a sample of water, grow the bacteria, and tomorrow I can tell you if the water was safe, which is super unsatisfying. That seemed dangerous for people who potentially could be swimming and not know about the risk and not even understand the bounds of the risk they're dealing with.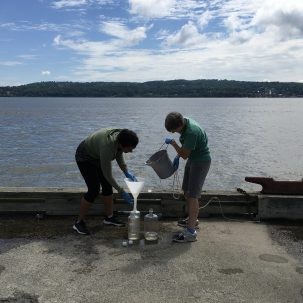 Myers and colleague Carol Knudson collect water from the Hudson at Piermont Pier. Photo: Greta Moran
We do know that when there are rainstorms, it's more likely that we're going to have sewage pollution in the river because wastewater treatment plants get overwhelmed and combined sewer overflows occur, which allows raw or untreated sewage to flow into the waterway. That happens after a quarter-inch of rain, so it doesn't take much.
I want to be able to tell people when they should or shouldn't swim, and the way you can do that is to develop models. I did several experiments and then used the experiments to parameterize the models. Using this data together helped us get a better sense of what's happening in the field and what kind of predictions we can make.
You don't want to get a mouthful of water that has a [high concentration] of fecal bacteria in it. You could get sick. It's also not a fun thing to think about for sure.
What drew you to research the Hudson?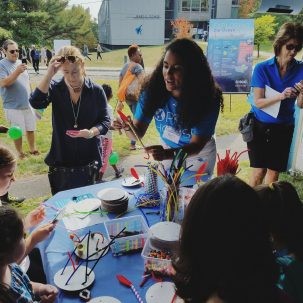 Myers teaching kids about oceanography at the Lamont-Doherty Open House. Photo: Liz Moscalenko
Growing up in Baltimore, the Inner Harbor is right there and the Chesapeake Bay Estuary is also there, and I was obsessed with it—fascinated by how all these complex networks work together in more remote areas and also within the harbor itself. [In the Inner Harbor], there's this urban area and yet there's this complex ecosystem right there, coexisting. As I learned more, I wanted to study an area where I could have an impact on the stakeholders. In an urban area, that's where we—unfortunately—see environmental degradation coinciding with economic status being lower and with more underrepresented minorities. So, I was very interested in finding an urban system that was also a critical water body in an urbanized area. In the U.S., what better highly urbanized water system could you go to right inside of the New York/New Jersey Metropolitan area?
You also research inequality in human health and environmental exposure among racial and/or ethnic minorities and low socioeconomic status individuals. What compels you about this complex dynamic?
Environmental inequality is to me viscerally so unfair and unjust, because it impacts people where they live, people who may or may not have the ability to choose where they're living. Companies can choose where they put a factory. [Governmental regulators] can choose what we're regulating or not regulating. It's such a disservice to allow more pollution in areas where people cannot afford to get out. The lack of fairness strikes me and is very frustrating. It's true in so many ecosystems and community groups. This is something we need to deal with. One of the best things we can do right now is to address these wrongs, stop them, and also try to make the system more equal. That means minimizing pollution and really understanding where there is more exposure.
* Myers wanted to share that people can sign up to be mentors or to get involved as a mentee at the GAINS Network.  "I really have enjoyed being involved with them and I think it's a great low-key way to encourage some action on International Day of Women and Girls in Science," she says.