How You Can Help Restore Nature on Earth Day
Consider helping to revive a degraded ecosystem by getting involved in an ecorestoration project.
April 21, 2021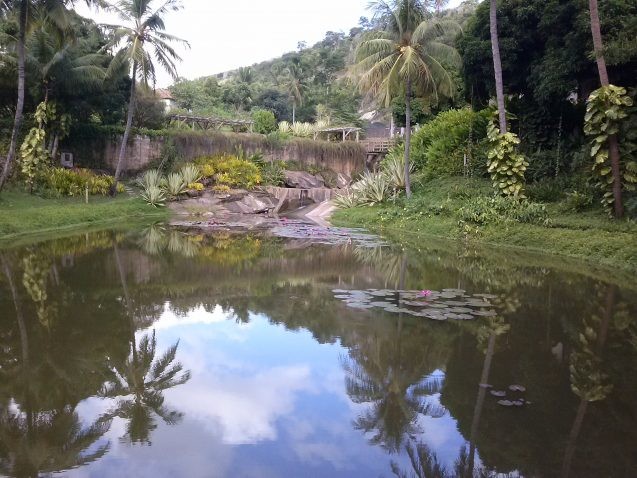 Ecorestoration by Instituto Terra turned barren land into a lush rainforest. Photo: Antonio Carlos Lima Barbosa
In honor of Earth Day on April 22, the Earth Institute has a variety of great stories and events lined up for you throughout the entire month of April. Learn more.
The theme of this year's Earth Day is 'Restore Our Earth.' Consider helping to revive a degraded or destroyed ecosystem by getting involved in an ecorestoration project.
Healthy ecosystems are essential for clean air and water, food and medicines, human health, storing carbon, and biodiversity. But globally, large swaths of land are being rapidly degraded, mostly due to the expansion and unsustainable management of agricultural and grazing lands, and the impacts of climate change. According to the Global Environment Facility, 24 billion tons of fertile soil are lost each year.
Land degradation is both exacerbated by climate change and worsens it. Hotter temperatures increase drought and desertification, and heavy precipitation and flooding cause more erosion; as a result, soil takes up less carbon, emissions increase, and carbon storage is reduced. If we continue on this trajectory, 95 percent of Earth's land could be degraded by 2050, which will likely make it impossible to limit global warming to 1.5˚C or 2.0˚C.
Ecorestoration can make a difference. The UN estimates that if we can restore 350 million hectares of degraded land by 2030, the recovered ecosystems could generate $9 trillion in ecosystem services and remove 13 to 26 billion tons of greenhouse gases from the atmosphere.
Ecosystem restoration works
There are many striking examples of severely damaged lands that have been restored. Here are just a few.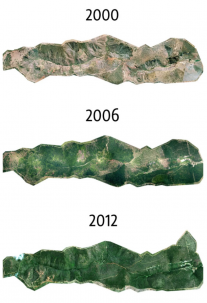 Satellite imagery showing the progress of reforestation efforts at Sebastião Salgado's family ranch. Photo: Instituto Terra
When Brazilian photojournalist Sebastião Salgado was a child, the area around his family's cattle ranch in the Brazilian state of Minas Gerais was a lush green paradise, but by 1994, it was desolate, devoid of trees and animals. He and his family set up Instituto Terra to restore the land.
Over the next 20 years, they planted more than two million trees, and in restoring the rainforest, brought back 172 species of birds, 33 species of mammals, and 15 species of amphibians and reptiles, including many endangered species.
As a result of hundreds of years of overgrazing, overfarming, and deforestation, the Loess Plateau in northwest China, once fertile agricultural land, became a barren desert. In 1994, the Loess Plateau Watershed Rehabilitation Project began teaching locals how to protect the land through replanting shrubs and trees on slopes, banning grazing and allowing grasslands to regenerate, and terracing their crops. Vegetation increased from 17 to 34 percent, and ecological balance has been restored over 35,000 square kilometers.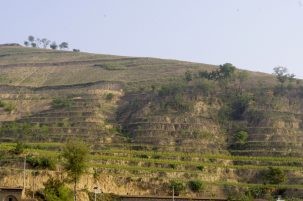 Loess terracing. Photo: w0zny
The Great Green Wall initiative, launched in 2007, is the world's largest ecosystem restoration project. Its goal is to green Africa from Senegal to Djibouti, an arid area of 780 million hectares (twice the size of India). The greening would result in sustainable land use, job creation and peace building. So far, 53,000 hectares have been planted with trees and other native species to counter desertification.
The Great Green Wall is the flagship project of the UN Decade on Ecosystem Restoration. The UN is mobilizing a global movement to protect and restore ecosystems, which will safeguard people's livelihoods, conserve biodiversity, and combat climate change.
Columbia University scientists have also been involved in a number of ecorestoration projects.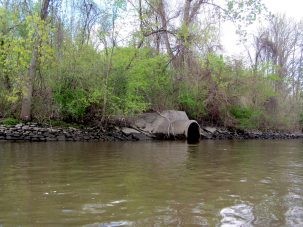 A stormwater outfall into the Hudson River. Photo: Andy Arthur
The Hudson River is much healthier and cleaner than it was in the early 1960s, thanks to clean water regulations and environmentalists. But today, during heavy rains, combined sewage and stormwater systems still dump sewage and other contaminants into the river at 150 places, and some PCBs and other contaminants remain in the river's sediments. Researchers from Columbia University's Earth Institute and Partners Restoring the Hudson created this restoration project to study the state of the river and areas that still needed to be addressed so the Hudson can withstand the impacts of climate change.
Building resilience in Vieques, Puerto Rico 
In 2017, Hurricane Maria devastated Puerto Rico, causing floods and landslides and knocking out electricity, with some people losing power for almost a year. Richard Plunz from Columbia University's Urban Design Lab and the Earth Institute's Vilma Gallagher joined forces with the Vieques Conservation and Historical Trust to help Vieques recover. They recruited graduate students from Columbia University's School of Architecture, Planning and Preservation, to visit the island, then come up with proposals to restore housing, water, transportation, food security, and health. These proposals provided new ideas and perspectives for the community leaders and served as a foundation for collaborative planning.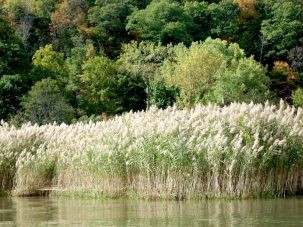 Phragmites reeds in Piermont Marsh. Photo: Patsy Wooters
The Piermont Marsh along the Hudson River has been overtaken by a non-native species of reeds. The invasive Phragmites prevents the native salt marsh vegetation from growing and as a result, destroys habitat for wildlife. A healthy salt marsh serves as a nursery for spawning fish and nesting area for birds; marshes also filter contaminants from the water and help prevent shore erosion.
Through Lamont-Doherty Earth Observatory's Secondary Schools Field Research Program, high school and college students and high school science teachers have worked with Lamont scientists to study the marsh in order to restore it. They research non-toxic ways to kill the invasive reed so the natural species can grow back and allow the wetlands to recover.
Why get involved in ecorestoration?
Margie Turrin, director of educational field programs at the Earth Institute's Lamont-Doherty Earth Observatory, said, "I think you can't really connect with something until you're really involved in working with it, because you don't understand the nuances of it or the dynamics of it. When you actually get to working with it, you recognize how alive it is, and how we have the ability to change it."
Ecorestoration is key to our survival. Despite ongoing efforts to create a sustainable society, we actually need to do more than sustain what we already have.
"Sustainability is not enough," said Turrin. "We really need to regenerate. And ecorestoration takes to heart that idea of regenerating. We can't put things back to the way they were. I think that's impossible. But we can be cognizant about the changes that we have created, and how we can make a really big difference through being aware and trying to correct some of these things with projects that will help to improve their functionality."
How to get involved
Here are 10 ways you can get involved in ecorestoration or citizen science. Some organizations may be delaying activities until the pandemic is under control.
When COVID-19 is over, Lamont-Doherty's Hudson River Field Station  will offer opportunities for students and community members to help with research. It will be conducting sampling for microplastics in the Hudson; monitoring glass eels, a keystone river species; taking water samples to study environmental DNA and identify species passing through the system; and restoring oyster beds. Contact Margie Turrin ([email protected] ) for more information.
Turrin hopes more people will get involved in ecorestoration, but also wants them to understand that they will not see results with most projects right away. "We're not going to see the difference we make in the couple of years that we're involved in a project," she said. "What we're going to do is lay the groundwork for this to be successful down the road. And I think that's really important for people that get involved to understand. We're not doing it for immediate gratification— we're looking at our investment in the ecosystem and our investment in our surroundings and the environment."
To help advance our work, please consider supporting Columbia Climate School and Lamont-Doherty Earth Observatory today. You can also learn more on our Earth Day website.