Announcing the Leadership of the Columbia Climate School
The Columbia Climate School will be co-led by four of Columbia's most eminent climate experts: Alex Halliday, Jason Bordoff, Ruth DeFries, and Maureen Raymo.
April 19, 2021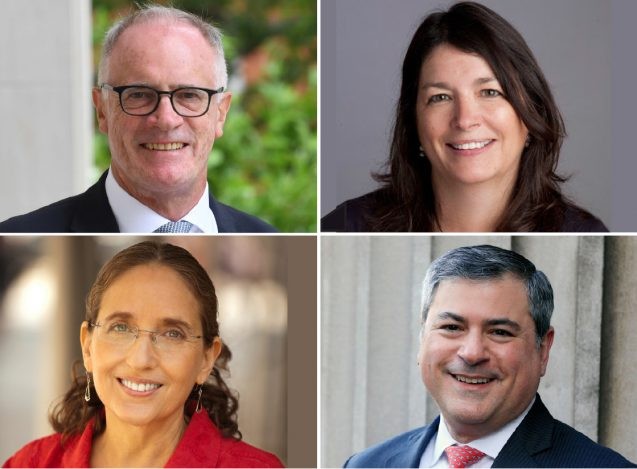 Clockwise from top left: Alex Halliday, Maureen Raymo, Jason Bordoff, and Ruth DeFries
In July of 2020, I wrote announcing the creation of the Columbia Climate School—the first of its kind and the first new school at Columbia in more than 25 years. Since then, we have been hard at work on all that is required to establish a school that will keep Columbia at the very forefront of the fields of climate and sustainability. Essential to this, of course, is leadership.
I am now delighted to announce that the Columbia Climate School will be co-led by four of Columbia's most eminent climate experts: Alex Halliday, Jason Bordoff, Ruth DeFries, and Maureen Raymo. I know this collaborative leadership arrangement is somewhat unique, but I am confident that in this case, given these four extraordinary people, this structure will ensure its success. Alex, Jason, Ruth, and Maureen are not leaving their current roles. Rather, their leadership of the Climate School is an addition to their existing portfolios, all of which is integral to the school itself. Each of these individuals brings unique and complementary areas of expertise to this endeavor; together they are already proving to be an excellent team.
Alex Halliday will assume the role of founding dean and will remain director of Columbia's Earth Institute and professor of earth and environmental sciences. Alex joined the university in 2018 to direct the Earth Institute. Since our earliest conversations he has been an invaluable partner in imagining and now realizing the potential of a school committed to climate. He is a wise and talented leader and an outstanding and highly distinguished scholar—his work in the field of isotope geochemistry contributes significantly to our understanding of the formation and evolution of planets in our solar system and the natural processes that modulate climate here on Earth.
Jason Bordoff will assume the role of co-founding dean and will remain professor of professional practice at the School of International and Public Affairs and founding director of the Center on Global Energy Policy, which advances actionable and evidence-based solutions to climate change through research, education, and dialogue. Jason joined Columbia in 2013 after serving as a top advisor to President Obama. One of the world's leading energy and climate policy experts, he has written prolifically about how to address our greatest energy and climate change challenges and has developed innovative programs and tools to train future leaders and to bridge the gap between academic research and policy. Much of his work involves delivering research insights in formats and timeframes that are accessible and useful to decision makers outside of academia, which is core to what I have described as the fourth purpose of a university.
Ruth DeFries will assume the role of co-founding dean and will remain University Professor and Denning Family Professor of Sustainable Development in the Department of Ecology, Evolution and Environmental Biology. Ruth will also continue to play an integral role in the Undergraduate Program in Sustainable Development at Columbia's Earth Institute. Ruth joined Columbia in 2008 and I appointed her University Professor in 2016. Her world-renowned scholarship is committed to understanding the changes experienced by the planet over the course of human existence. She is also a public advocate whose dogged commitment has resulted in advances around the world concerning climate change, food insecurity, and nature conservation. And, importantly, she has been instrumental in the creation of several innovative Earth Institute programs.
Maureen Raymo will assume the role of co-founding dean and remain the G. Unger Vetlesen Professor of Earth & Environmental Sciences. Maureen received her PhD from Columbia University in 1989 and returned to Columbia in 2011. She is an eminent marine geologist and climate scientist whose groundbreaking and award-winning work focuses on the history and causes of climate change. In addition to her role as co-founding dean, I am very pleased to share that Maureen will also become the director of the Lamont-Doherty Earth Observatory (LDEO), after having served as interim director since June of 2020. Over the past year she has shown remarkable skill as an administrative leader and continued and deep commitment to the success of LDEO and its scientists and researchers. Under Maureen's direction, LDEO will continue to thrive as a leader in the earth sciences, furthering its long tradition of pioneering research that improves our understanding of our planet.
As a group, the talent and commitment are unmatched. Like all of us, I am very much looking forward to continuing to work with them closely as we embark on the next phase of this essential undertaking.
Let me say, again, I believe there is an undeniable obligation binding upon Columbia and other universities to confront the climate crisis across every dimension of our institutions. We have been working at this steadily for some time, with significant advances in this last year—from the launch of the Columbia Climate School, to formalizing a policy of not investing in publicly traded oil and gas companies unless they meet certain criteria and move significantly to be part of a transition, to committing to becoming carbon neutral by the year 2050, if not sooner. We will continue to push this work forward, with the urgency and commitment it requires.
As an institution, nation, and global society, we have much to do to combat the climate crisis. Our hope and expectation is that Columbia University will help lead the way. I send my thanks and admiration to Alex, Jason, Maureen, and Ruth for helping us meet this moment.
Lee Bollinger is the president of Columbia University.