American Geophysical Union Honors Five Lamont Scientists
Lamont scientists representing a range of research disciplines and career stages are to receive honors from the internationally influential earth and space science organization.
August 22, 2019
The American Geophysical Union (AGU), the world's largest earth and space science society, has announced its 2019 honorees, and among them are five scientists from Columbia University's Lamont-Doherty Earth Observatory. The list of Lamont award recipients reflects a range of early, mid-career, and senior scientists, as well as the breadth and excellence of the observatory's research talent.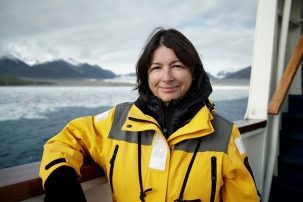 Maureen Raymo will receive the Ewing Medal, named for Lamont founding director Maurice "Doc" Ewing. Photo: Garry Tutte/SOI Foundation
Topping the list and receiving among the most prestigious of AGU awards is Maureen Raymo, who will receive the Ewing Medal, named for Lamont founding director Maurice "Doc" Ewing. Raymo, the Bruce C. Heezen Lamont Research Professor and director of the Lamont Core Repository, studies the planet's past climate to illuminate how climate varied before humans appeared. Her work has identified several foundational ideas in paleoceanography.
"Maureen's contribution to science is exceptional and shows no signs of slowing down," said Columbia University's Dean of Science, Peter de Menocal. "She is exceptionally deserving of this top recognition because of her intellectual leadership and outstanding service to the fields of paleoclimatology and paleoceanography."
Raymo is among the world's most honored scientists in her field. Among her many accomplishments, she is a member of the National Academy of Sciences, a fellow of both AGU and the Geological Society of America, a former Fulbright Fellow, a former Guggenheim Fellow, and the first woman to receive the Wollaston Medal, a top award from the Geological Society of London.
"Getting the Ewing Medal is pretty darn awesome," said Raymo. "It is special because of the obvious historical link Maurice Ewing had to Lamont and the Core Repository, but especially because this medal is major recognition from my peers in my 'home' science organization, the AGU."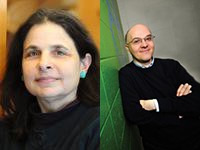 Lamont scientists Rosanne D'Arrigo and Lorenzo Polvani have been named 2019 AGU Fellows.
Two more Lamont scientists — Rosanne D'Arrigo and Lorenzo Polvani — have been named 2019 AGU Fellows. The AGU Fellow program, which was established in 1962, recognizes members who have made exceptional contributions to earth and space science as valued by their peers and vetted by a committee of fellows. Lamont research professor D'Arrigo is a tree-ring scientist who studies past climate and the paleoenvironment. Polvani, a professor in both the Department of Earth and Environmental Sciences (DEES) and the Department of Applied Physics and Applied Mathematics, is an atmospheric scientist whose research spans climate variability and change, tropical cyclones, the influence of the Arctic on other regions, and geophysical fluid dynamics.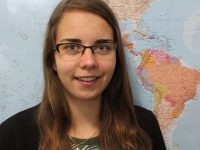 Franziska Landes will receive the Science for Solutions Award.
Recent Lamont and DEES Ph.D. recipient Franziska Landes is to receive AGU's Science for Solutions Award. The honor, which comes with a $1,000 prize, is given annually to one student or post-doctoral scientist in recognition of "significant contributions in the application and use of the Earth and space sciences to solve societal problems." Landes, who will start a postdoctoral research scientist position at Lamont next month, studies environmental geochemistry and public health, with a focus on contaminants and the potential for community-based, citizen science tools to reduce exposure to toxins and improve science education. Landes' work drew widespread media coverage when her soil analysis research identified pervasive lead contamination in Greenpoint, Brooklyn.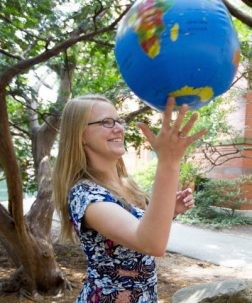 Jacqueline Austermann is being honored with the Jason Morgan Early Career Award.
Rounding out this year's list of AGU honorees is Lamont scientist Jacqueline Austermann. In late July, the AGU announced that its Tectonophysics Section would award Austermann the Jason Morgan Early Career Award. Austermann, a DEES assistant professor in Lamont's Seismology, Geology and Tectonophysics Division, studies the processes that contribute to variations in sea level, both in the past and in the face of modern changes to ice sheet stability and ice mass loss. She also works on geodynamic and plate tectonic problems such as plate driving forces and the dynamics of the Earth's deep interior. The AGU confers this award each year to one early-career scientist in "recognition of outstanding and significant early career contributions to tectonophysics through a combination of research, education, and outreach activities."
"It is terrific that AGU this year has recognized Lamont scientists who work in multiple disciplines and are at different stages in their professional careers," offered Lamont director Sean Solomon. "Collectively these awards affirm the observatory's twin missions, to conduct innovative research on all of the processes that have shaped our planet, and to nurture the next generation of leaders in earth science."
"This really is wonderful news," said Earth Institute director Alex Halliday. "The American Geophysical Union is the most distinguished and powerful geoscience organization globally, with more than 60,000 members. The competition to receive its awards is immense and it makes a very impressive statement about the strength of the geosciences at Columbia University that five of our colleagues are among this year's AGU award recipients. Hearty congratulations to all and richly deserved."
AGU president Robin Bell, the Palisades Geophysical Institute Lamont Research Professor, added, "AGU honors the scientific leaders in our field each year. I am thrilled that we will be celebrating the accomplishments of some of Lamont's stars this December."
The AGU will present all of these awards at its annual fall meeting, which will be held in San Francisco in December.