You Asked: Should We All Go Vegetarian or Vegan to Reduce Our Carbon Footprint?
Short answer: Moderation is key.
September 26, 2019
"You Asked" is a series where Earth Institute experts tackle reader questions on science and sustainability. In honor of Climate Week NYC and the Covering Climate Now initiative, we're focusing on your questions about climate change.
The following questions were submitted through our Instagram page by our followers. The answer was provided by Maureen Raymo.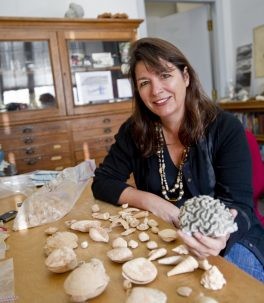 Maureen Raymo is a paleoclimatologist at Columbia's Lamont-Doherty Earth Observatory and an advisor for Hold the Beef. Photo: Kalman Zabarsky for Boston University Photography
What is the real role of vegetarianism? Does it really help in terms of carbon footprint?
What would happen if everyone went vegetarian or vegan?
When it comes to vegetarianism or going vegan, this is a decision that would definitely help the environment and climate. CO2 and methane emissions would decrease and fertilizer and water usage would decrease. However, you can achieve most of these benefits by just reducing your beef consumption. I appreciate that food choice is a personal and cultural decision. The point I want to make is that cutting your beef consumption by half, by 90 percent, or even completely are all thoughtful, scientifically informed, good-for-the-planet decisions that an individual can make.
Our diet-related environmental burdens are in no way minuscule. These burdens include using almost half of the land that spans the United States, whilst emitting more than 70 percent of the nitrogen runoff that can choke rivers and streams. To produce all the food we buy regularly, 40 percent of the country's fresh water is continuously extracted from underground stores. All in all, agriculture produces 20 percent of the nation's greenhouses gas emissions.
Numerous studies have found that beef production contributes to about 90 percent of the above mentioned environmental problems. This is because vast areas of land have to be taken over and converted into grazing grounds. Also, beef production uses the most irrigation water and emits far higher greenhouse gases (41 percent) than other types of meat.
The average American eats around 460 grams of beef every week. We have found that cutting that down to 200 grams instead could make the U.S. beef industry much more environmentally sustainable and friendly.
While vegetarian diets are seen as far more sustainable, recent studies are finding that a diet which includes small portions of meat can have a lower carbon footprint. In 2016, we launched the website HoldtheBeef.org, which includes facts and figures from a 2016 study carried out by the graduate students of the Columbia School of International and Public Affairs. This is another great resource to gain a better understanding of the impacts of different types of meat, vegetables, and dairy products as well.
To answer the question on whether going vegan helps in terms of reducing carbon footprint, the short answer is: yes. According to the Food and Agriculture Organization of the United Nations, after beef production, cattle milk is responsible for the most emissions (20 percent) on a commodity basis. The two major greenhouse gases that are being emitted due to animal agriculture are methane and nitrous oxide, because of manure storage and the use of fertilizers, respectively.
So, while going vegan would certainly help the environment, it is also unrealistic for most people to follow a dairy-free and meat-free diet. Almost as good is to consume meat and other animal products in moderation. And most especially, hold the beef!