Weber, Plank Elected to American Academy of Arts and Science
Elke Weber, who studies how people make decisions and how they think about climate change, and Terry Plank, who probes deep into the Earth's interior to study magma and how volcanoes erupt, are among the members elected to the American Academy of Arts and Science this year.
April 22, 2016
(This post was updated on April 25, 2016.)
Elke U. Weber, who studies how people make decisions and how they think about climate change, and Terry A. Plank, who probes deep into the Earth's interior to study magma and how volcanoes erupt, have been elected members of the American Academy of Arts and Science this year.
The announcements were made on Monday by the Academy, which dates back to the founding of the United States. Weber and Plank are among 213 people on the list this year, including six from Columbia University.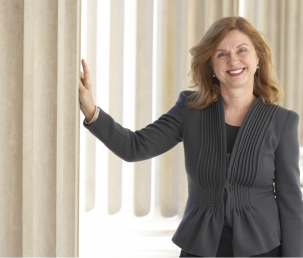 Weber is a director of the Center for Research on Environmental Decisions, part of the Earth Institute, and is the Jerome A. Chazen professor of international business in the Columbia Graduate School of Business, director of the Center for the Decision Sciences and a professor in the Columbia Department of Psychology.
Plank is the Arthur D. Storke memorial professor at Columbia and the Lamont-Doherty Earth Observatory.
The Academy has a long list of distinguished members, from George Washington, Benjamin Franklin and Thomas Jefferson to Ralph Waldo Emerson, Georgia O'Keefe, John Updike and Martin Luther King Jr. Honorary foreign members include Albert Einstein, Winston Churchill, Mary Leakey and Nelson Mandela.
The others elected from Columbia this year are Andrei Okounkov in mathematics; Susan G. Pedersen in history, Marianne Hirsch in literary criticism and Colm Toibin in literature. Induction ceremonies will take place Oct. 7-8 at the Academy headquarters in Cambridge, Mass.
"I am honored and thrilled to join the distinguished group of fellows of the American Academy of Arts and Sciences and to attend the induction ceremony at the House of the Academy on Irving Street in Cambridge," Weber said. "I lived on Irving Street during my graduate student days at Harvard and could not imagine a more joyous return."
Working at the intersection of psychology and economics, Weber is an expert on behavioral models of judgment and decision-making under risk and uncertainty. She has been investigating psychologically appropriate ways to measure and model individual and cultural differences in risk taking, specifically in risky financial situations and environmental decision making and policy.
She has published dozens of articles in her field and contributed to many books. She co-write a paper published in 2014 that looked at the "climate gap": the difference between scientists, who mostly see climate change happening, and the half of the American public that just doesn't believe it's going on. She and co-author Paul Stern found the gap has less to do with scientific "illiteracy" and more to do with the psychology of how people frame their understanding of the world.
She earned her undergraduate degree from York University in Canada and her master's and PhD from Harvard.
Weber is past president of the Society for Judgment and Decision Making, co-editor of Risk Decision & Policy and associate editor of Organizational Behavior and Human Decision Processes. She serves on the editorial boards of two other journals, on the executive councils of INFORMS's Decision Analysis Society and the Society for Mathematical Psychology and on an advisory committee of the National Academy of Sciences on Human Dimensions in Global Change. She is a lead author in Working Group III for the 5th Assessment Report of the U.N. Intergovernmental Panel on Climate Change (IPCC).
Terry Plank spoke about "clocking the run-up to volcanic eruptions" in this video from August 2014.
A geochemist, Plank's work has taken her far afield, from Nicaragua and Mexico to the Philippines and the Aleutian Islands, into the western United States and out to sea. Her research focuses on magmas associated with the plate tectonic cycle—how it is generated, and the roles of decompression, temperature and water in driving melting of the Earth's mantle; how crust is recycled at subduction zones; and the influence of water on magma evolution and composition.
"It is an amazing honor of course to be included among the likes of Ben Franklin and Georgia O'Keefe," Plank said, "but also great to share it with Lisa Tauxe (a geophysicist at the University of California, San Diego), the other Earth scientist elected this year. She was also a PhD student at Lamont, so we are both products of this special place. We are also now among about a dozen female Earth scientists in the American Academy. A small cohort indeed, but growing!"
Plank earned her PhD in geosciences at Lamont-Doherty Earth Observatory in 1993, following an undergraduate degree in earth sciences at Dartmouth College. She has published dozens of papers on magma, volcanoes and subduction processes.
Plank has served on the MARGINS steering committee, the editorial boards of Geology and Earth & Planetary Science Letters, the USArray Advisory Committee, the Bowen Award selection committee, NSF review panels, and as co-chief scientist on Leg 185 of the Ocean Drilling Program. Plank received the Houtermans Medal from the European Association for Geochemistry, the Donath Medal from the Geological Society of America; and is a fellow of the American Geophysical Union, the Geochemical Society, the Geological Society of America, and the Mineralogical Society of America.
In 2012, she was named a MacArthur Foundation fellow, and in 2013 elected into the National Academy of Sciences.
She was profiled on State of the Planet in 2014, here.