Teen Scientists Team Up with Lamont to Restore an Invaded Marsh
"My experience at Lamont has been great and it's something like no other. Here I was basically being trained to be like a scientist with exposure to lab work, fieldwork and presentation skills."
August 17, 2015
Image Carousel with 14 slides
A carousel is a rotating set of images. Use the previous and next buttons to change the displayed slide
Slide 1: Piermont Marsh, along the Hudson River, has been overtaken by an invasive reed species called phragmites. Students in our high school field work program spent the summer studying the marsh and testing non-chemical methods to restore its native divers

Slide 2: The habitat restoration team started by studying other wetlands restoration projects. They Skyped with David Decker of the Audubon Society to learn what has worked at Constitution Marsh in Garrison, N.Y., and to get ideas for employing similar strate

Slide 3: For New York City students accustomed to subways and sidewalks, the marsh required new skills beyond environmental science. Alondra Cruz paddles a canoe with Stephanie Valentin and Anjelle Martinez.

Slide 4: David Decker shows the team a section of Constitution Marsh that had been covered to kill the invasive reeds. Once phragmites are gone from an area, natural species grow back in, creating a more diverse, healthier wetland.

Slide 5: Back at Piermont Marsh, the students make it through the mud to a small test plot with East Harlem teacher Andrew Mittiga. Right to left: Alondra Cruz, Anjelle Martinez, Keylen Lucero, Raquel Penalo, Nick Mapp, Marc Jimenez and Shanon Dempster.

Slide 6: Science + math: The teams set up a 30-square-meter area using posts and the Pythagorean Theorem to plot-out a rectangle. Brian Delgado and Stephanie Valentin work on a corner.

Slide 7: The floor of the marsh is a thick mat of roots. Marc Jimenez pounds in a stake to anchor the covering, with (right to left) Bing Liang, Julissa Nunez and Shanon Dempster. It takes about two years for phragmites to die and native species, such as spar

Slide 8: On a flattened section of marsh, Laisa Sevilla samples the soil and plant matter for carbon and methane content.

Slide 9: In the lab at Lamont, Atsu Bedjean, Ivan Carrasquillo and Areej Haroon jot down data from a core sample. They worked with Lamont researcher Dorothy Peteet to study the ability of the marsh's soils to store carbon.

Slide 10: Eric Sun, Avery Templo and Amy Zhang compare the amounts of organic and inorganic material in a soil sample. They also worked with Lamont scientist Liz Corbett to test for methane content from the marsh's decaying plant matter.

Slide 11: The six-week program wrapped up with presentations by each team of their summer fieldwork and findings. Brian Delgado and his teammates present their marsh rehabilitation work.

Slide 12: Aziza Rahman and her teammates discuss their tests and analyses of the flow of nutrients into and out of the marsh. They were mentored by Lamont marine biologist Ray Sombrotto.

Slide 13: Josh Yurtsever describes how his team, working with Lamont's Ben Bostick, created a microbial battery from microbes in the marsh. The battery, on the desk in front of him, was able to light an LED lamp.

Slide 14: Learn more about the Secondary School Field Research Program, led by Lamont's Bob Newton and teacher Susan Vincent, at the Lamont website. Field work photos courtesy of John Bjornton.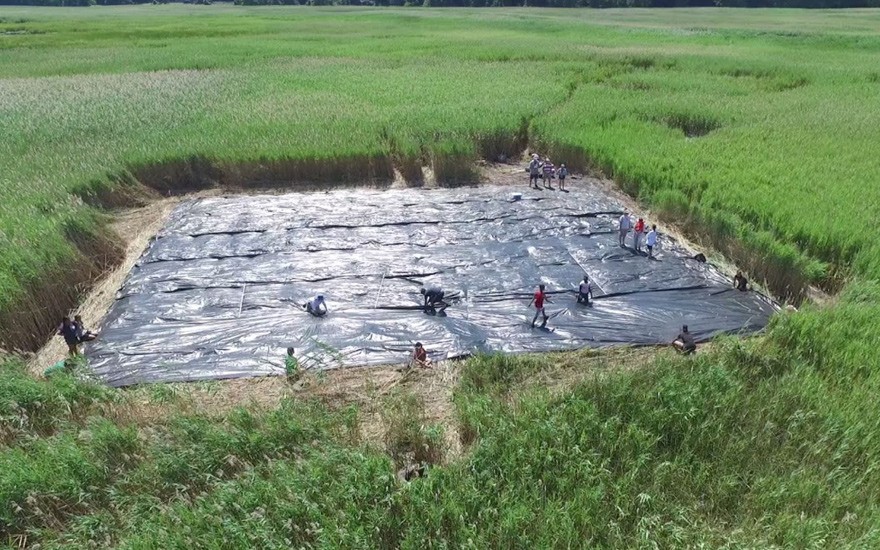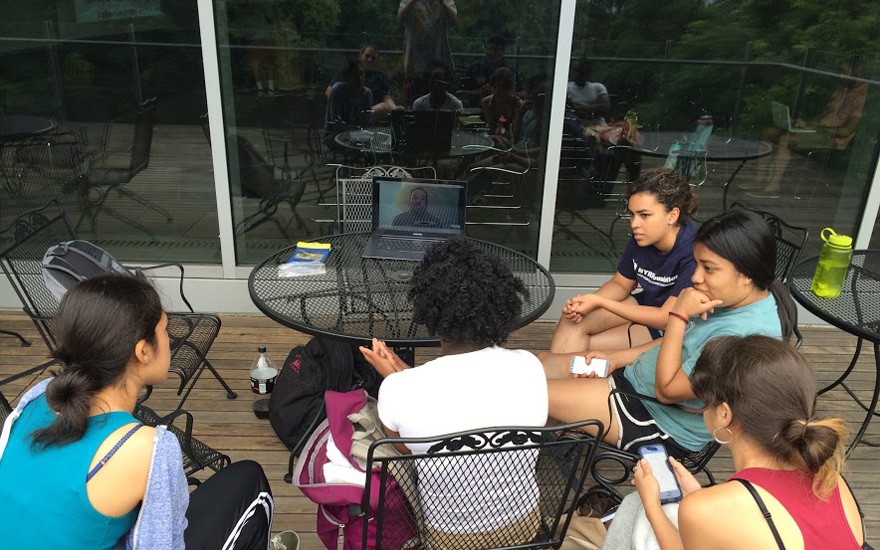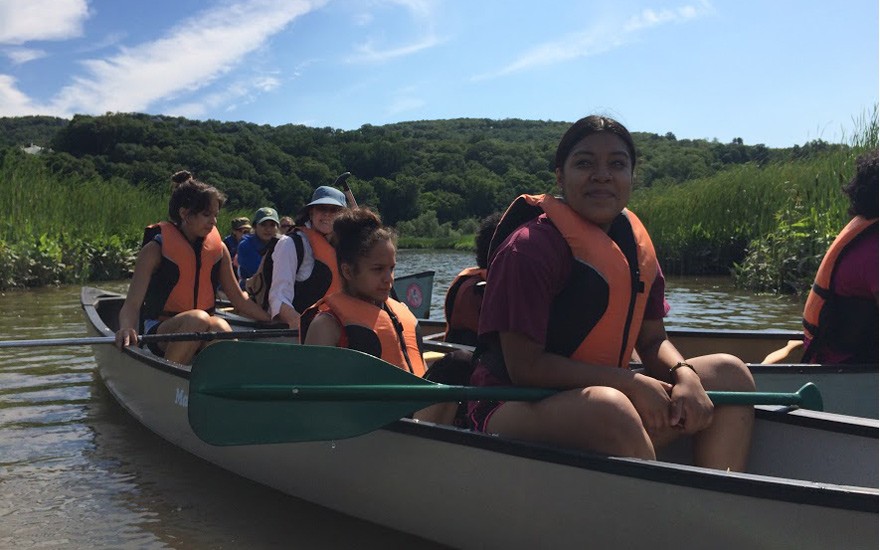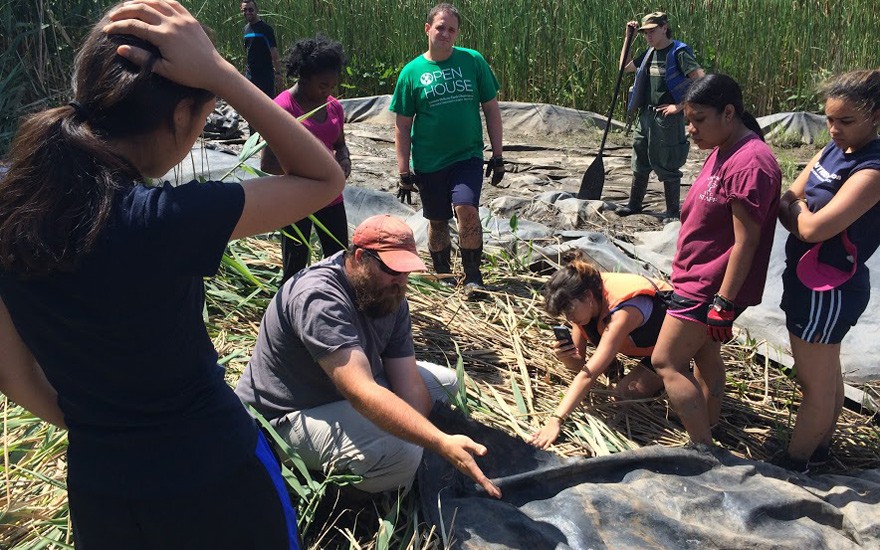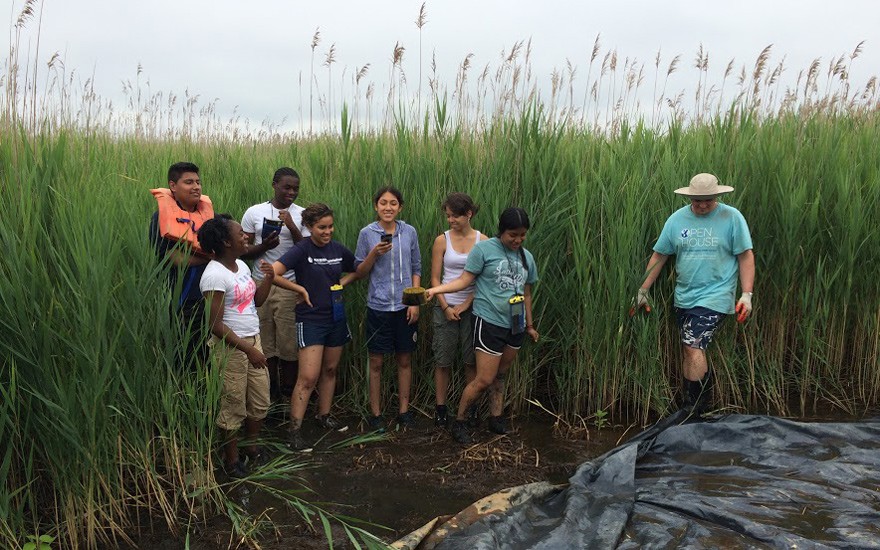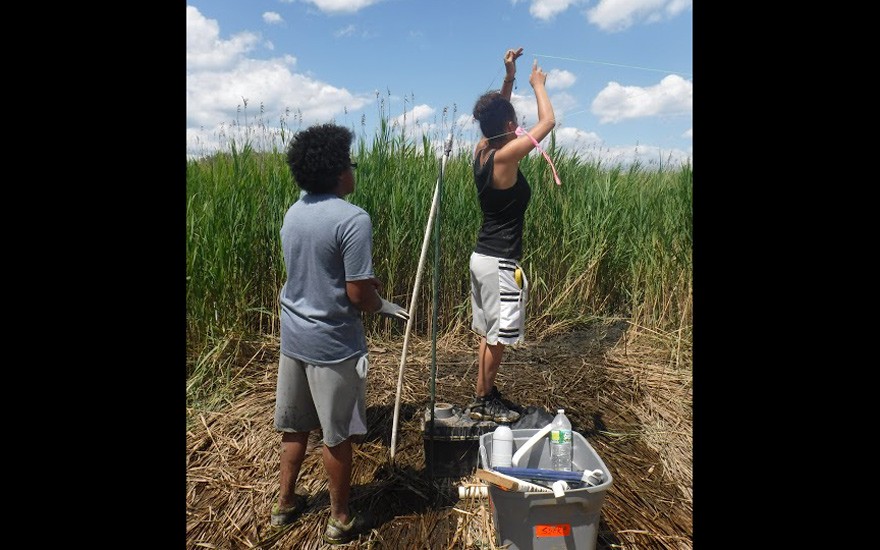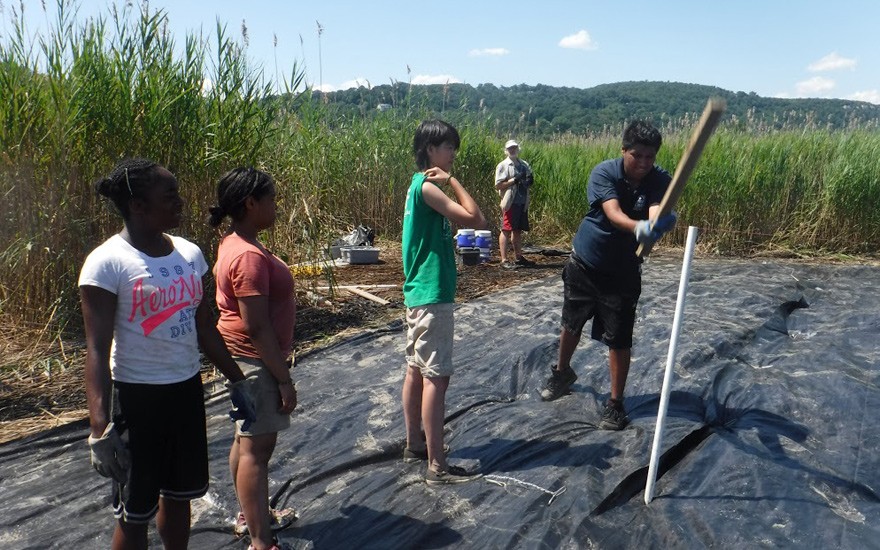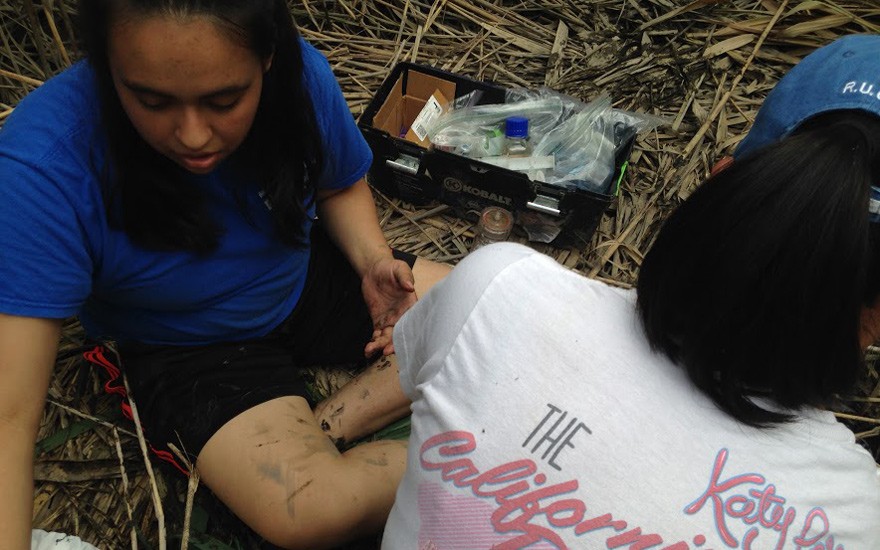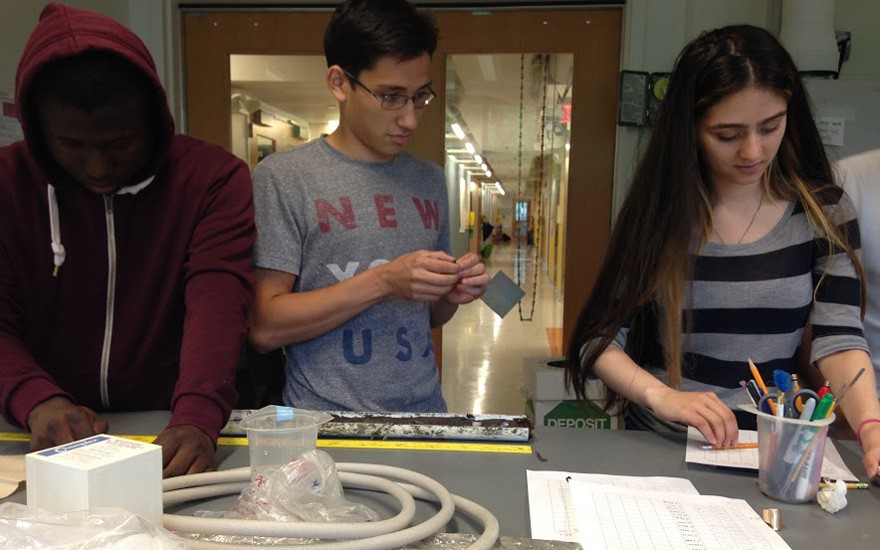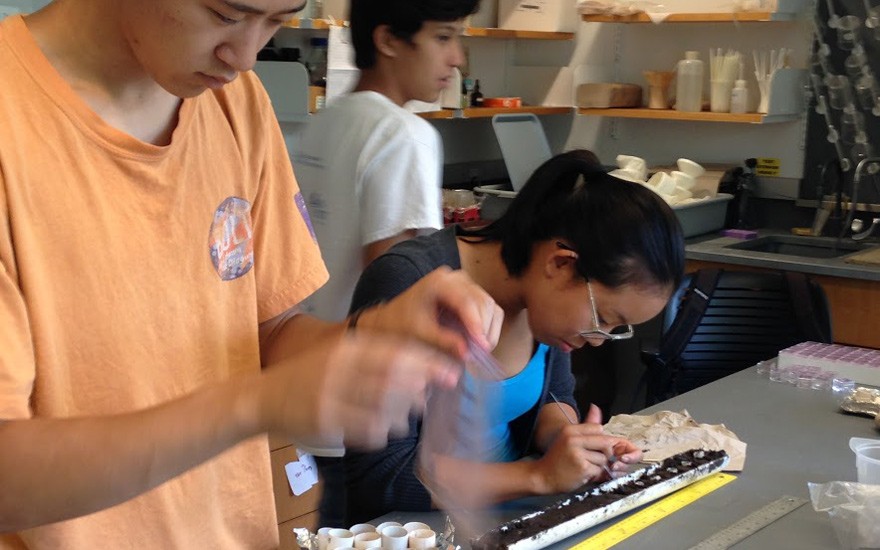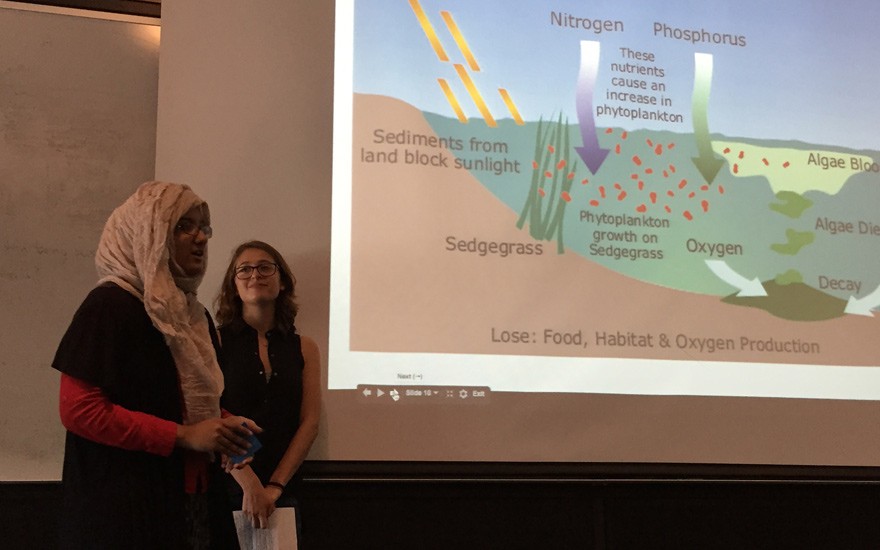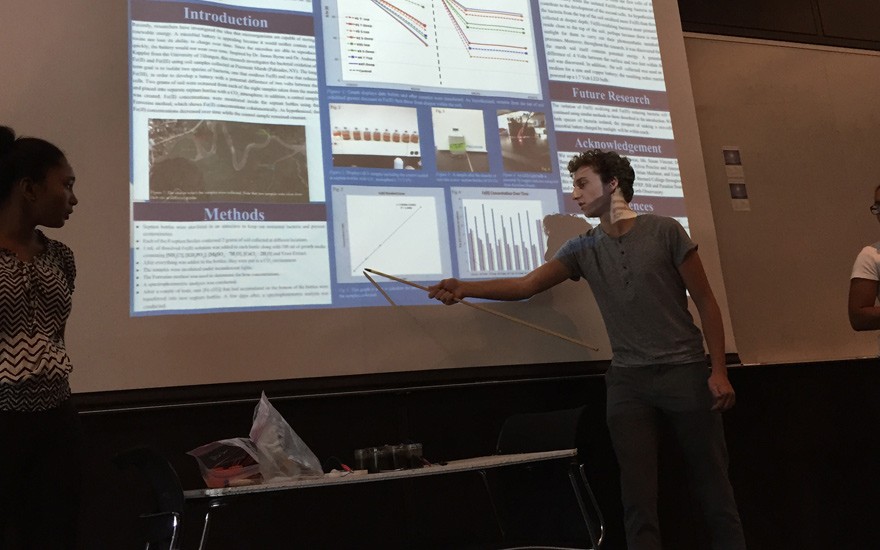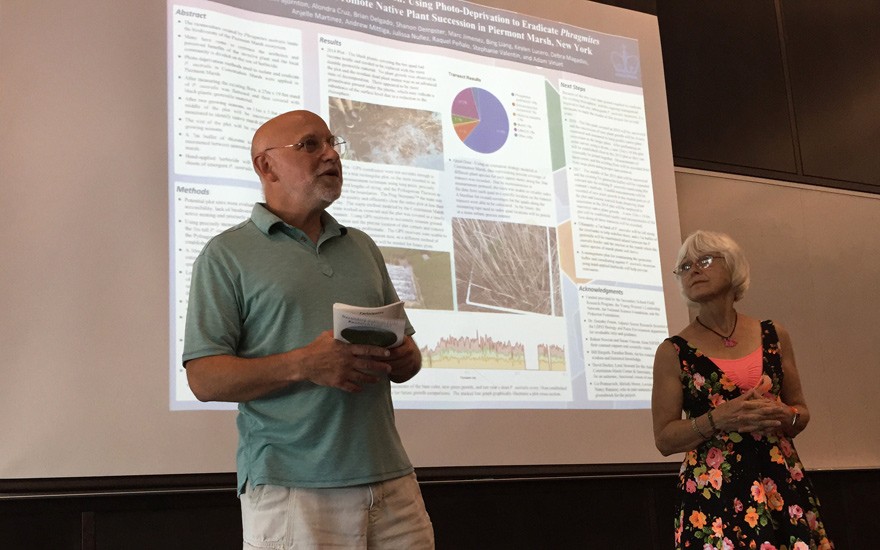 Previous
Next
If you're ever lost in a marsh and need to build a battery that can power LED lights, these teens can help you out. They can show you how to track the flow of nutrients into and out of a marsh, and how to take sediment samples and analyze them for carbon, methane or metals. They can also show you how to rehabilitate a marsh that has been overrun by invasive species – they just spent the summer working with scientists at Lamont-Doherty Earth Observatory and Piermont Marsh putting all of these projects and their own hypotheses to the test.
Forty high school students, 11 college students and 10 high school science teachers came to the Lamont campus this summer for the 11th year of the Secondary Schools Field Research Program. The program connects them with Lamont scientists as mentors and introduces them to field research and lab analysis over an intensive six-week summer program. From Day 1, they are treated as early-career scientists, and their data is held to professional standards. In fact, several former participants have presented abstracts of their work to scientific organizations, including the Society of Wetland Scientists and the Geological Society of America.
The students, including several from the Young Women's Leadership Schools, wrapped up their work on Friday with presentations describing each project's design, methods and findings. For many, it was just the first step of multi-year investigation. Here are some of their reflections:
Jeffany Acosta, 15
Spending my summer at Piermont Marsh was an extraordinary learning experience. From collecting samples in the marsh to working in the labs, the program has expanded my knowledge and interest in the science field. What surprised me the most was how fascinated I was about materials I have never encountered, and working with them for the first time was a good skill to gain. I learned about chemistry, biology and environmental science through the work of starting to create our Microbial Battery. Although my favorite topic in science is astronomy, my experience has helped me grow in other topics that gave me the experience and the knowledge that I could potentially use in the future. I am grateful that I was able to attend this program, gain new friends and connections with research scientists. This summer was a blast and I will never forget it.   
Ivan Carrasquillo, 17
My experience at Lamont has been great and it's something like no other. Here I was basically being trained to be like a scientist with exposure to lab work, fieldwork and presentation skills. The most surprising thing from this program is how the adults, scientists and college advisors treat the students. They treat us with so much respect and have so much trust in us that it motivates us to work even harder. Before this program, I had never been to a marsh and didn't even know its importance to the larger ecosystem. Now I understand the marsh's processes and have contributed to the study of carbon sequestration in the marsh. The experience here has been great and I'm grateful for taking the opportunity and hope to have more to come.
Aziza Rahman, 17
After three summers of working in the Secondary Science Field Research Program, the most surprising thing about the program is how flexible the schedule is. I can easily come to work while managing my own obligations outside of the program. I'm always kept up-to-date on my team's every actions, so that I can perfectly contribute to our research project by converting the data into graphs or writing up parts of the poster. Each team always puts together a poster every summer to present their research and their findings. I can do the same every summer, even if I change my group/research.
Keesha Chowtie, 18
My science teacher told me about the Piermont Marsh Secondary School Field Research Program at Lamont-Doherty. I became really interested in it after seeing videos about the program. I had the opportunity to work with high school and college students from around New York City. I learned to canoe and took soil samples from the marsh. I worked in a lab at Barnard College analyzing our samples.  I also had many opportunities to present in front of other students, teachers and scientists. This helped me become more comfortable with public speaking. I enjoyed the independence I experienced, because I was not told what to do. I was treated like a scientist and had to figure what and how to conduct the research. Based on my experiences here, I'd now like to study environmental science in college. My team's goal was to grow bacteria to find dominant bacteria to create a battery and convert Fe-II to Fe-III.  This is a work in progress and I look forward to continuing this research next summer.
Learn more about the Secondary Schools Field Research Program and other education opportunities at Lamont-Doherty Earth Observatory.