Lamont-Doherty to Host Fourth Annual No-Boundaries Art Exhibition
This year's theme encourages students to explore the relationship between human beings and water through various art forms.
April 09, 2019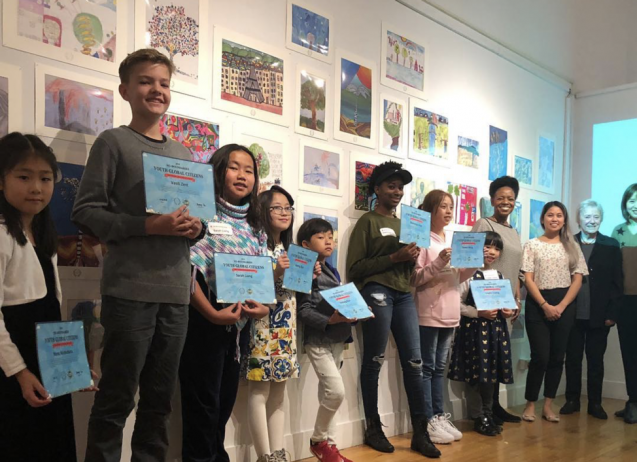 Opening ceremony of third NO-BO exhibition at Teachers College of Columbia University. Photo: Yian Zhang
By Connor Cai
Columbia's Lamont-Doherty Earth Observatory is excited to announce an upcoming event, in partnership with the Columbia Global Centers, which encourages students worldwide to communicate their perspectives on global issues through artwork. Lamont-Doherty will be hosting the No-Boundaries (NO-BO) Art Exhibition, now in its fourth year, from August 12 to 16, 2019. The theme for this year is "A Drop of Water," which encourages students to explore the relationship between human beings and water through various art forms. Selected artworks will be shown in spaces open to the public in the host cities of Beijing, Paris, Nairobi, New York and Rio de Janeiro.
Lamont-Doherty is particularly excited about this opportunity, as it demonstrates how the arts can be integrated into its K-12 science, technology, engineering, and mathematics (STEM) efforts. Since the observatory's establishment in 1949 and continuing today, researchers at sea, on land, and in the lab have worked in every sub-discipline of the earth and environmental sciences, including chemical and biological oceanography, seismology, atmospheric dynamics, geochemistry, glaciology, and ecology. Alongside a rigorous research agenda is a suite of educational and outreach programs, led through Lamont's Office for Education and Outreach, meant to strengthen the connections between our world-leading research and STEM initiatives.
Recently, we sat down and spoke to the founder of NO-BO, Baitong Yan, to learn more about the history of the art exhibitions and what the organization hopes to achieve.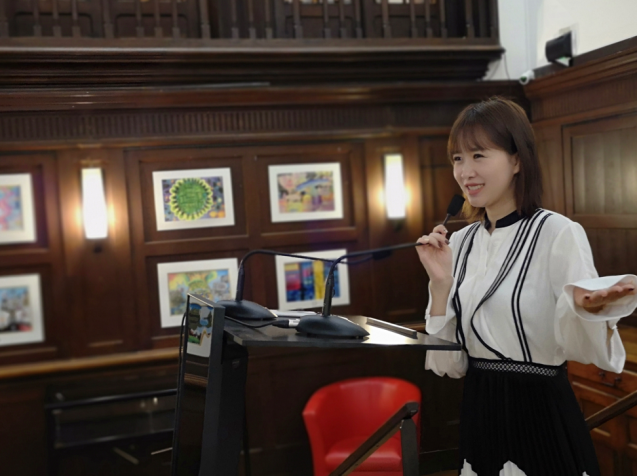 Founder Baitong Yan at the third NO-BO exhibition opening ceremony at Columbia Global Centers, Paris. Photo: Yian Zhang
What is NOBO?
Baitong Yan: The name No-Boundaries originates from the concept that "art has no boundaries." We aim to promote future generations' global awareness and social responsibility through art education and hone socially responsible global citizens. Without being restrained by nationality, language, or culture, children express their observations and sentiments through their artwork. Therefore, they can learn to understand and respect each other's differences to develop diverse viewpoints.
Since our establishment in 2016 and through the platform of the Columbia Global Centers and the United Nations, we have held international art exhibitions in China, the United States, France, Brazil and Kenya for three consecutive years, in which more than 20,000 children from 15 countries participated.
When did you start NOBO?
I started NOBO when I was a first year student at Columbia's Teachers College in 2016. As an international student, I realized the importance of advocating for global awareness and social responsibility in education. To me, Columbia University is a place that values globalization and multiculturalism. This is greatly reflected in the faculty, the students, and the ambiance around campus.
I believe that art can help children communicate with others in a way that isn't always possible through written text. It has the potential to teach children around the world to look past the boundaries set by language, nationality and culture, and to communicate with the rest of the world through thoughtful art. Furthermore, when children work together to achieve a single goal, they will learn to respect and appreciate their differences. This process is the principle behind No-Boundaries exhibitions; we hope our children can become envoys of cultural and artistic communication and exchange.
What are some of the most inspiring pieces of artwork you've seen or stories you've encountered during your experiences with NO-BO?
One of the most inspiring piece of artwork I have seen is a small-scale installation consisting of phone mockups. The artist is a nine-year-old girl with autism who spends a lot of time drawing on her phone. During our Beijing exhibition, we displayed 80 phone mockups she created. We were inspired by her creations because we could truly feel her passion for art. We aim to help the public understand and accept the artistic talents of special populations so as to create a diverse, harmonious, and positive social atmosphere.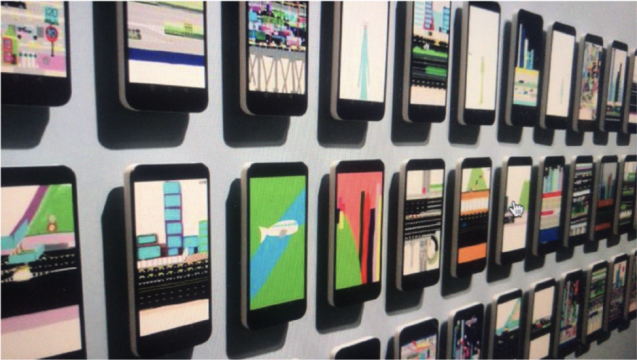 Artwork by Feifei, 9 years old. Photo: Yian Zhang
What are your future goals with NO-BO? Do you hope to take it beyond the Global Center locations?
A question we continue to ask ourselves is: how can cultural differences impact lesson plans and classroom teaching? I hope to provide an international platform that not only benefits children, but also teachers around the world who have made great efforts to educate and inspire young minds. Teachers from different cultural backgrounds will be educating children on the same topic: "A drop of water." Through these lessons we hope to cultivate global awareness and social responsibly in the minds of children around the world. Thousands of ideas may be produced, and I'm certain they will all be worth sharing and promoting. This year, we are encouraging teachers to submit their own lesson plans. During the exhibitions, teachers will get to present their works, and we will host events where all educators come together to learn from each other. This year we are also calling for teacher testimonies and filming a documentary where we compare the teaching methods of different cultures, so as to encourage understanding and communication amongst the different participating countries. By placing emphasis on the hard work of educators, we hope that society will understand the true value they conjure.
We are still expanding to new locations, and hope to invite one country or region every year to join us so our young artists can transcend the boundaries of culture and ethnicity, and use art and their actions to call upon the world to become aware of global topics.
How can people participate?
The Fourth No-Boundaries International Art Exhibition will be accepting submissions between February 1, 2019 and June 1, 2019. People who are interested in participating can visit our website for more information, such as the online submission guidelines and dates of exhibition.
The exhibit at Lamont-Doherty will be on display from August 12 to 16, 2019. On August 14, a one-day event will honor students whose pieces have been selected to be displayed on campus, and will include talks from renowned earth scientists whose work focuses on this year's theme.