Lamont-Doherty Earth Observatory Designated a Clean Air Campus
The award from the New York State Department of Transportation recognizes Lamont's electric shuttle buses, bike-friendly engineering, and more.
October 17, 2018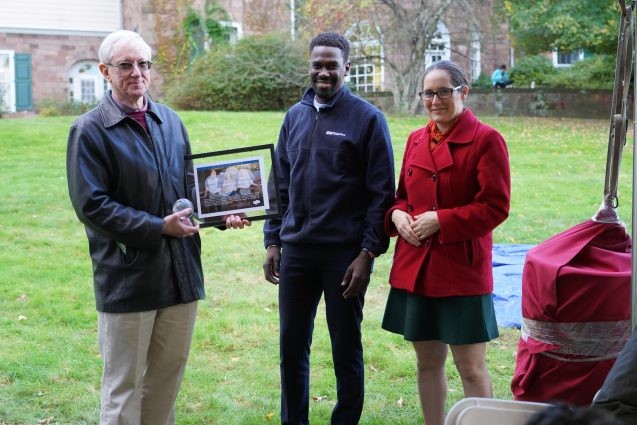 Lamont Director Sean Solomon (left) accepts the Clean Air Campus NY award, bestowed by Heliana Higbie and Modou Cham from 511NY Rideshare (sponsored by the New York State Department of Transportation). Photo: Phebe Pierson
On Saturday, October 13, Lamont-Doherty Earth Observatory welcomed more than 3500 visitors to its all-day annual Open House. Amid the action were representatives who came to present Lamont Director Sean Solomon with an award recognizing Lamont as a Clean Air NY Campus.
The Clean Air NY Campus designation, presented by 511NY Rideshare and sponsored by the New York State Department of Transportation, recognizes institutions that go above and beyond to reduce air pollution in New York by promoting sustainable transportation options.
Lamont earned this designation for "for its exceptional work towards improving air quality in the Lower Hudson Valley by offering electric shuttle buses for its student and employee commuters, establishing a bus stop at the campus entrance, providing showers and bike racks for a more bicycle-friendly campus, encouraging teleworking, and creating preferred parking for carpools to incentivize staff employees to choose sustainable transportation."
Presenting the award on behalf of 511NY Rideshare were Columbia University graduates Heliana Higbie and Modou Cham. Cham also took part in the Open House celebration, informing thousands of visitors about 511NY Rideshare's sustainability initiatives within the Sustainable Columbia exhibition tent. 511NY Rideshare provides information and resources to help commuters find easy, affordable, and sustainable alternatives to driving alone.
The award recognizes a long-held cultural imperative at the Lamont campus to "walk its talk" and demonstrate environmentally protective measures. According to Patrick O'Reilly, Lamont's assistant director of facilities and engineering, Lamont has always had a substantial number of bicycle commuters on campus, and the institution has a stake in encouraging them.
"When I joined Lamont in 2005, one of the first people I met on campus was Andrew Goodwillie, who served on our Campus Life Committee. Andrew sponsors an annual "bike to work" event each year for Earth Day on campus. Andrew kept me informed of the needs to maintain a bicycle-friendly campus," recalls O'Reilly. Among the campus' bike-friendly features are bike racks, showers in all new construction projects, and accounting for bike access in gates and storm drain gratings.
Lamont's newest clean air innovation is the addition of electric powered buses in July, the result of the efforts of the Transportation Work Group of the Sustainable Columbia Advisory Committee. According to O'Reilly, Columbia University operates a fleet of six buses, driving 180,000 miles per year to connect its several campuses. Two of these buses are dedicated to Lamont.
When the service contract for the shuttle bus operations came up for renewal, O'Reilly says Lamont recognized that "a more sustainable fleet would have a significant impact on the university's carbon footprint. So, the university negotiated a new service contract, which included an investment in a fleet of electric buses to replace the aging diesel fleet." He added that riders appreciate the sustainability benefits of the new fleet, though it may take time for the community to adjust to the smaller and more utilitarian design.
Columbia University has a formal telecommuting policy, and O'Reilly says Lamont culture provides a great deal of flexibility for many members of its predominantly research-focused community, who are accustomed to traveling around the globe to make their observations and collect data. Many of the work habits developed to support working from very remote locations, such as the Antarctic, are equally beneficial to support working from somewhat less remote locations, such as Manhattan.
"Everyone in the Lamont community should be pleased by this award from our state indicating that our efforts to reduce the carbon footprint of our campus are recognized and valued," added Lamont Director Sean Solomon. "Our electric shuttle buses and our bicycle-friendly policy, together with the solar farms that for the last two months have provided three-fourths of the electrical power consumed by the campus, constitute important milestones in our progress toward a greener campus. But our journey to full sustainability continues."
Editor's note: This post was updated on October 22 to include information about 511NY Rideshare's role in making Lamont a Clean Air NY Campus.