Joanne Johnson and Lamont-Doherty, Collaborating on Glacial Research
New research about West Antarctica's Pine Island Glacier suggests the glacier's recent and rapid thinning and melting may continue for decades or centuries to come. British Antarctic Survey's Joanne Johnson's research, done in collaboration with scientists at Lamont-Doherty, might not have been possible without Lamont's effort to promote women scientists.
February 28, 2014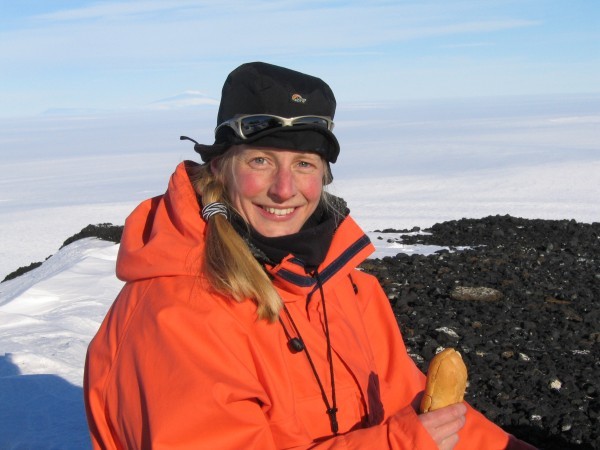 On Feb. 20, Science published new research about the Pine Island Glacier on the West Antarctic Ice Sheet that suggests the glacier's recent and rapid thinning and melting may continue for decades or centuries to come. The British Antarctic Survey's Joanne Johnson's research, done in collaboration with scientists at Lamont-Doherty, might not have been possible without Lamont's effort to promote women scientists, honoring another woman scientist who helped map the ocean floor.
The new findings about the Pine Island Glacier are significant because the glacier is the single greatest contributor to global sea level rise.
An ice sheet is formed by snow falling on land, which is then compacted by its weight and moves towards the sea via ice streams. The Pine Island Glacier is one of Antarctica's five largest ice streams; it flows into Pine Island Bay in the Amundsen Sea in western Antarctica. Scientists believe the glacier's accelerated thinning (at a rate of over 1 meter a year) over the last two decades is likely caused by warmer ocean water melting the ice shelf, the thick floating slab of ice that forms where a glacier flows into the sea, from below. In addition, the glacier's grounding line, where it shifts from sitting on land to floating in the sea, has retreated at a rate of over 1 kilometer a year in this same period.
The new research found that 8,000 years ago, the Pine Island Glacier thinned as quickly as it has recently. The scientists speculate that this occurred due to the shifting of an underwater ridge that had previously kept the glacier in place, or to warmer ocean water from below melting the glacier's ice shelf.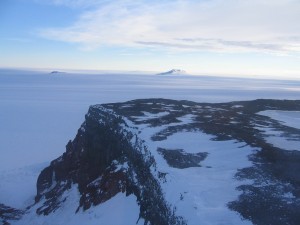 From Mt. Manthe, looking at Mt. Moses and Maishe Nunatak (mountain) where Johnson did the study
Rocks that were left behind by the ancient glacier were analyzed to determine when the glacier retreated. Once the rocks were uncovered by the retreating glacier, they were exposed to cosmic rays. The cosmic rays produced atoms of particular elements—mainly Beryllium-10—that built up in the rock the longer they were exposed to the sun. Joerg Schaefer, a research professor at Lamont-Doherty, did the chemical analysis of the concentration of elements in the rocks using a process called surface exposure dating, which made it possible to figure out how long the rocks had been exposed.
Rock samples were taken from higher and lower elevations, with up to 100 meters difference in elevations. If the Pine Island Glacier had retreated slowly, the concentration of Beryllium-10 in the higher and lower elevation rocks would have been quite different. But the scientists found that the concentration was virtually the same, which means that the glacier thinned and retreated very quickly, possibly at a rate of 1 meter a year, which is comparable to today's thinning. Analysis of the rocks also showed that this thinning went on for decades and possibly centuries.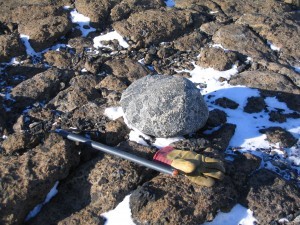 Lead author Johnson's original idea had been to collect rocks from lower elevations and right next to the current day ice surface. She had expected to get information about when the recent rapid thinning that's been observed over the last two decades started, perhaps as far back as 1,000 years. Unexpectedly, the results showed that all the rocks had been exposed for nearly 8,000 years, suggesting that the Pine Island Glacier had been fairly stable until the onset of recent changes.
"Even though we didn't do quite what we had set out to do," said Johnson, "the high sensitivity dating method Joerg Schaefer pioneered allowed us to get ages that are more precise than any other Antarctic studies so far, and allowed us to determine the glacier's thinning rate with a high level of certainty and precision…such that it can be compared with rates derived from satellites for the past two decades of thinning."
The rapid thinning of the Pine Island Glacier in the past has implications for the future— it demonstrates how sensitive the glacier is to environmental change and how small changes can produce dramatic and long-lasting results.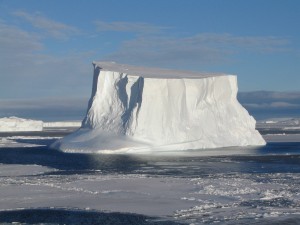 A large iceberg in Pine Island Bay
"What we are seeing now, combined with what we reconstructed [from] 8,000 years ago, might add up to a century-long demise of the West Antarctic Ice Sheet," Schaefer said. If the entire West Antarctic Ice Sheet were to disintegrate, estimates suggest it could raise global sea levels by 3.3 to 6 meters.
Johnson received her Ph.D. In igneous geochemistry and has worked at the British Antarctic Survey for 12 years, studying paleoenvironments in the Antarctic. She knew Schaefer was one of the world leaders in surface exposure dating and contacted him to see if he would work with her. But what ultimately made it possible for Johnson to collaborate with Schaefer at Lamont was the Marie Tharp Fellowship.
This three-month fellowship, named after a pioneer of modern oceanography who worked at Lamont Geological Laboratory (now Lamont-Doherty), promotes the advancement of outstanding women scientists by providing them $25,000 to collaborate with researchers at Columbia University. Marie Tharp was the first scientist to map the ocean floor on a global scale.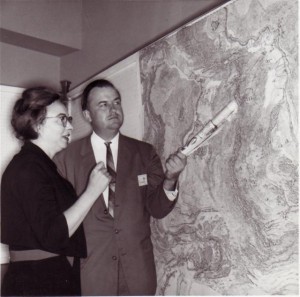 Marie Tharp and Bruce Heezen collaborated on mapping the ocean floor.
Her interpretation of mid-ocean ridges was key to the eventual acceptance of plate tectonic and continental drift theories. The fellowship named for her was begun in 2005 during the five-year National Science Foundation-ADVANCE grant given to the Earth Institute in 2004 to promote women in science, technology, engineering and math.
"We went from single digit to double digits [numbers of women] at Lamont and changed the culture there," said Robin Bell, a senior research scientist at Lamont-Doherty and former director of the ADVANCE program. "Now there is much more mentoring with women, both formal and informal at Lamont, than ever before… It's very good for science."
The Marie Tharp Fellowship, now funded mainly by the Lamont-Doherty Earth Observatory Directorate and the Earth Institute, is a direct result of the ADVANCE program.
Applying for the Marie Tharp Fellowship, which was originally not meant for non-U.S. women, was very competitive, but Johnson received a great deal of assistance and support from Lamont-Doherty; Kuheli Dutt, assistant director for academic affairs and diversity; and Schaefer. Schaefer helped Johnson get settled in an apartment, provided the lab technique and expertise, and helped arrange daycare for her then 2-year-old daughter, Phoebe.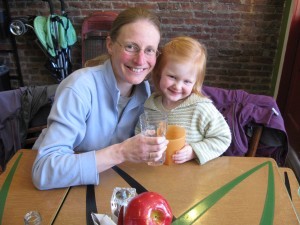 Johnson ended up spending half the money on childcare and the other half on research, recognizing that she could never have come to Lamont at this stage of her career without the fellowship paying for daycare.
Motherhood is one of the real constraints for women scientists, said Johnson, who gave birth to a second daughter five months ago. "The hardest thing is being torn between your personal and professional ambitions," she said. "…Wanting to go to conferences, but not wanting to leave your children. Having to leave work early or drop everything if you get a phone call that she's sick. You could be in the middle of a complicated thought process and you have to start again."
Being at Lamont was the most challenging situation Johnson had ever been in because she had to tend to the needs of both her daughter and her work. In the end, however, she came away feeling that she accomplished things she never thought she could and now feels she can do anything. "It was both a spiritual and a professional journey," Johnson said.
The experience opened many doors for Johnson, with new contacts in the glaciological community, new research lines and grants for more studies. She and Schaefer are on track to collaborate over the next five to 10 years; they are planning to extend their Antarctic work and in the future will also study Greenland and East Antarctica together.
Schaefer, for whom this was an opportunity to embark on ice sheet research, believes their collaboration is a great example of what can happen when everything works together to support academic women. "The cutting edge science, and the new transatlantic collaboration only happened because of the Marie Tharp Fellowship," he said.
Between 2005 and 2009, the Marie Tharp Fellowship was awarded to two to four fellows. From 2010 to 2013, four fellowships were awarded each year. In addition to funding external women scientists, the fellowship is planning to introduce a component to competitively award funds to scientists at Lamont-Doherty and the Earth Institute.
Lamont's office of Academic Affairs & Diversity also supports women in science by offering family leave policies for Lamont research professors and paid maternity leave for full-time postdocs at Lamont; promoting a more diverse applicant pool for job openings; enhancing the visibility of women through special events; and increasing awareness by regularly distributing information on social science research to the Lamont staff.