Event: Earth Institute Experts to Discuss How to Act on Climate
Join us at 'Our Future Festival NYC' on September 21. This groundbreaking climate event is designed to inform and inspire.
September 12, 2019
Join the Center for Climate and Life and our Earth Institute colleagues at a groundbreaking New York City climate event designed to inform and inspire.
Climate Week NYC kicks off on Saturday, September 21 with a daylong event devoted to local climate action and opportunities. The Our Future Festival, hosted by the New York City Metro Chapter of the Climate Reality Project and the Human Impacts Institute and held on Governors Island, will involve many Columbia University climate experts.
The organizer of the festival, Amanda White, is head of content for Thinc Design and a member of the Climate Reality Project's NYC chapter leadership team. When designing the festival, White sought to create a family-friendly climate event that would attract and engage New Yorkers of all ages in a positive way, where they could freely wander and explore.
White also wanted the festival to focus on New York and show people what they can do about climate change; she cites New York's climate plan as another source of inspiration. The state recently approved one of the most ambitious climate targets in the world, which aims to eliminate net carbon emissions by 2050.
White says climate scientist Peter de Menocal, director of the Center for Climate and Life at Columbia's Lamont-Doherty Earth Observatory, was instrumental in making the festival a reality. They began discussing the project over a year ago; De Menocal then introduced White to the other climate experts from Columbia who will participate in the festival. They include Michael Gerrard, director of the Sabin Center for Climate Change Law at Columbia Law School; Kate Orff, director, and Thaddeus Pawlowski, managing director of the Center for Resilient Cities and Landscapes; and Andy Revkin, director of the Earth Institute's new Initiative on Communication Innovation and Sustainability.
"Through these different channels that Columbia has for climate discussions, it presents the kind of multidisciplinary approach that we absolutely must have for mitigation," said White. "The Earth Institute represents a way to bring those things together, and Columbia has a reputation for academic and practicing expertise in the climate discussion."
De Menocal is excited to be part of the Our Future Festival because "so much of what we're doing at the Center for Climate and Life is trying to advance the science that will frame better resilience and smarter decisions for the future," he said. "This festival is just one example of how a large urban metropolitan center can respond and prepare rationally for the future we know is going to come."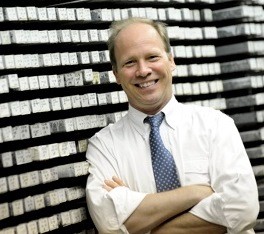 De Menocal, Orff, and Pawlowski will take part in a panel discussion, Innovation for Our Future, that's focused on the latest developments in business, design, and communication for mitigating climate change.
"My reason for being there is to summarize the best forecasts for temperature, rainfall and sea level rise for the region and discuss how that impacts some of the New York area assets, such as real estate and trade," said de Menocal.
But he will also talk about solutions, such as the scalability of renewable energy, how a unit of electricity from renewables is now cheaper than one provided by fossil fuels, and how quickly battery technology is advancing.
In addition to the panel discussions, the festival will feature activities for all ages including art and music programming, creative workshops, and the chance to meet and talk with climate scientists, activists, and artists.
White hopes that people who arrive at the festival feeling uncertain about what they can do to address climate change will leave knowing what they can do. She anticipates attendees will also come away from it feeling more knowledgeable about climate and confident in their ability to start conversations about the topic.
"What's so important now is for everyone to just keep talking about this to everybody else so that we get this critical mass of determination around what needs to happen," she said.
"I would like people to come away from the festival with a sense of their own potential. As human beings we have this enormous potential to act. And I love the idea that people might come away feeling a bit of that sense in themselves."
***
The Our Future Festival is free with optional advance registration. It runs from 11 a.m. to 5 p.m. on Saturday, September 21. Ferries to Governors Island leave from the Battery Maritime Building at 10 South Street in Manhattan and Brooklyn Bridge Park's Pier 6.
This post was first published by the Center for Climate and Life, a research initiative based at Columbia University's Lamont-Doherty Earth Observatory.